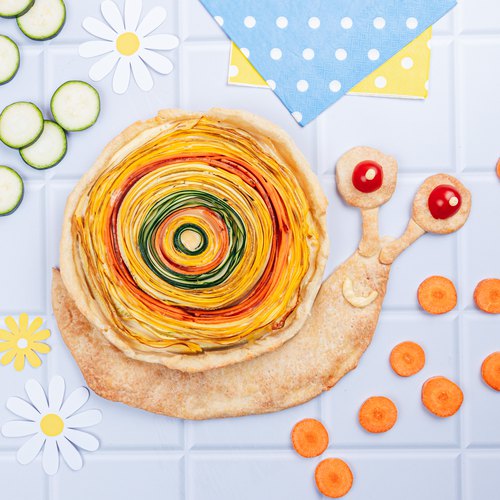 Are you 18 years old or older?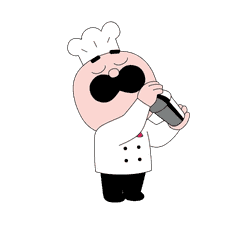 You must have the right to consume alcohol in your country of residence to continue on this site.
Please drink responsibly
Veggie quiche snail
A quiche of many colours!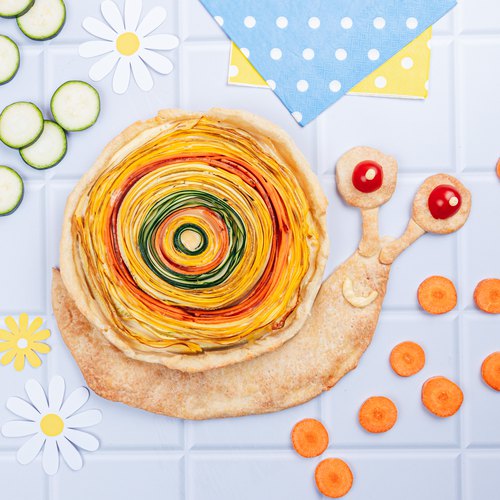 ---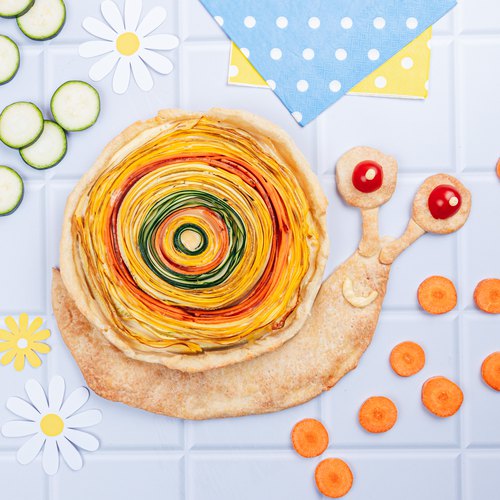 ---
Total time: 1 hour
Prep time: 45 minutes, Cook time: 15 minutes
Ingredients for 8 people
450 grammes of flour
220 grammes of butter
1 tsp of salt
6 eggs
1 green courgette
1 yellow courgette
1 carrot
100 grammes of grated mozzarella
25 cl of double cream
1 cherry tomato
mayonnaise
---
Kitchenware
Vegetable peeler
Rolling pin
Aluminium foil
---
Step 1/4
Combine 3 chefs of flour, 3 cats of butter and 1 chick of salt. Add 2 eggs and 1 pig of water, then knead to form a uniform dough. Next, create thin vegetable ribbons out of the courgettes and the carrot using the vegetable peeler. Roll out 1/3 of the pastry dough into a large disc and cut a large crescent shape out of it, then out of the remaining rolled-out pastry cut 2 short strips, and use the mouse cup to cut 2 small discs.
Step 2/4
Fold a long sheet of aluminium foil lengthways to create a 2 cm-wide strip, and form a large ring with it. Place this aluminium ring onto the crescent shape and cover it like a pie-dish with the remaining 2/3 of the pastry, rolled out into a disc. Prick the pastry several times with a fork, and sprinkle 1 cat of grated mozzarella over the pastry circle.
Step 3/4
Take a vegetable ribbon and roll it up, then place it at the centre of the pastry circle. Wrap the next vegetable ribbon around the original rolled ribbon, and continue until the pastry circle is full. Position the 2 pastry strips at one end of the crescent pastry shape and put the 2 small pastry discs on the ends of the strips to make the snail's eyes.
Step 4/4
Mix together 4 eggs, 1 chef of double cream, salt and pepper, and pour the mixture over the vegetables in the pastry circle. Bake in the oven for 15 minutes at 180°C. Once the quiche is out of the oven, remove the aluminium foil circle and put half a cherry tomato onto each of the snail's eyes. Add a dot of mayonnaise to the tomatoes and give the snail a mayonnaise smile, then enjoy!