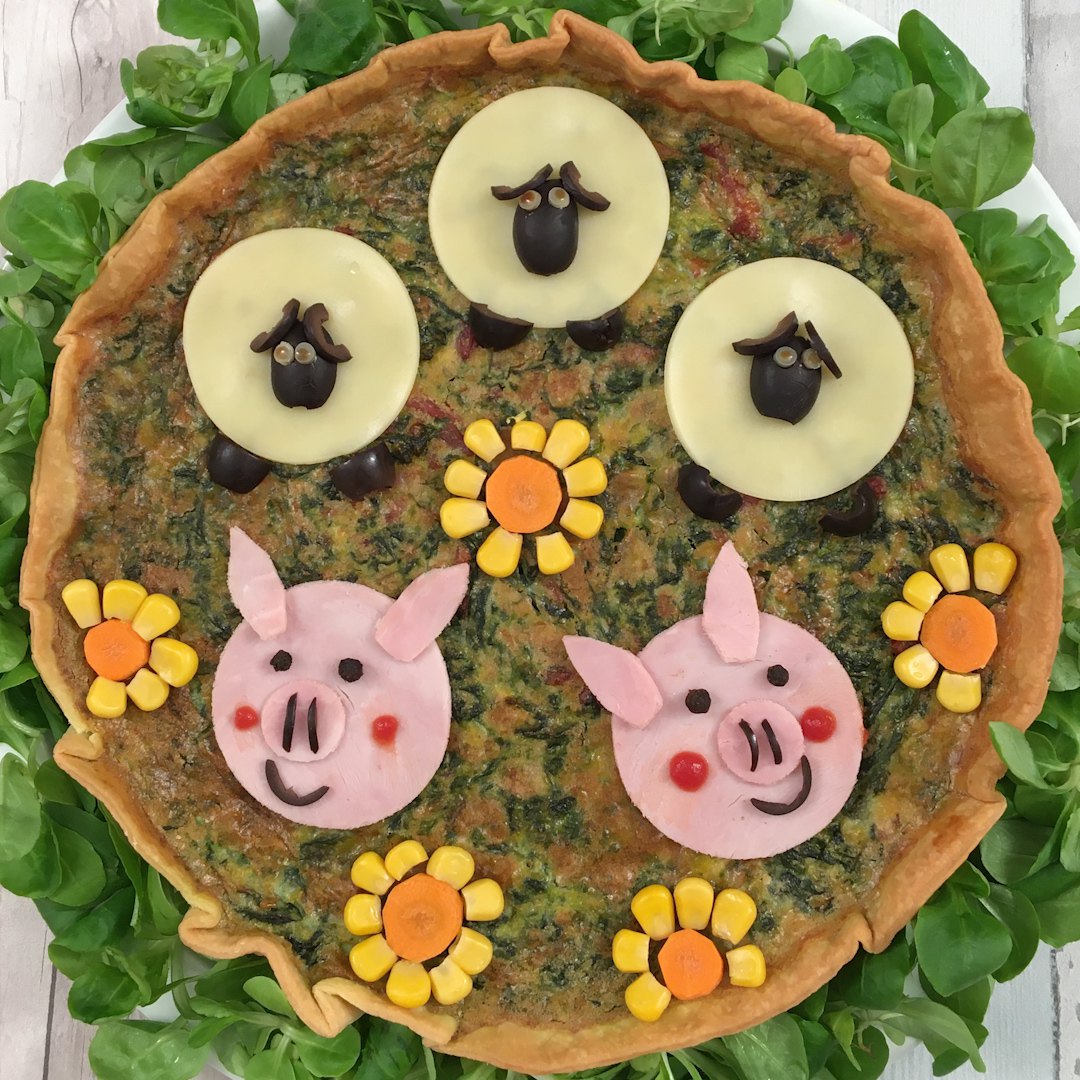 Barnyard Quiche
Old McChefclub had a famr, EE I EE I yummy!
Made by you!
Ingredients
300g of flour
150g of butter
200g of bacon lardons
400g of spinach
150g of grated mozzarella
35cl of crème fraîche
4 eggs
3 slices of ham
3 slices of gouda cheese
5 black olives
1 carrot
20g of corn
Ketchup
Salt
Kitchenware
1 Chefclub by Tefal® cake tin
1 Chefclub by Tefal® skillet
1 rolling pin
Baking paper
1. Mix the flour, 8 cl of water, 1 tsp of salt, and the butter together to make pastry dough (1). Use a rolling pin to roll out the dough between two pieces of baking paper. Place the dough and baking paper in the cake pan. Prick the dough with a fork, then bake for 10 minutes at 170 °C (2).
2. Sauté the bacon lardons and cook the spinach (3). Combine the bacon lardons and spinach with grated mozzarella, crème fraîche, eggs, salt, and pepper (4). Pour this mixture into the crust once it has finished baking. Bake again for 20 minutes at 170 °C.
3. Cut out 2 circles from the slices of ham, 5-cm in diameter, as well as two smaller circles, 2-cm in diameter, then cut out 4 small ears (5). Cut 3 5-cm circles from the slices of gouda cheese. Cut 6 carrot rounds.
4. FOR THE KIDS: IT'S YOUR TURN TO DECORATE THE QUICHE! Make 2 pig heads by putting the small ham circles on top of the large ham circles and add the ears on top. Add pieces of olive to make the snout, eyes and mouth. Finish with 2 dots of ketchup for the cheeks. Make 3 sheep by putting 1 half olive in the middle of each cheese circle. Add half olive rings for the ears (6) and 2 tiny pieces of cheese for the eyes. Place 2 quarters of olive under the circles to make the legs. Finally, make flowers by placing corn kernels all around the carrot slices on the quiche (7-8).