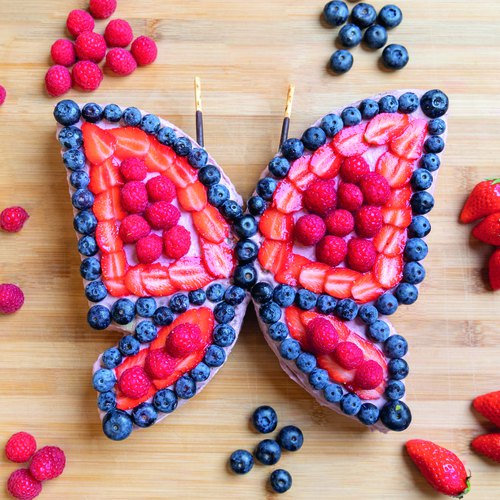 Are you 18 years old or older?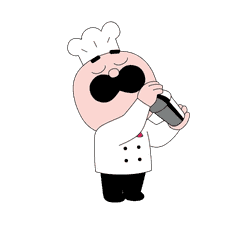 You must have the right to consume alcohol in your country of residence to continue on this site.
Please drink responsibly
Butterfly Cake
Catch one before dessert. 🦋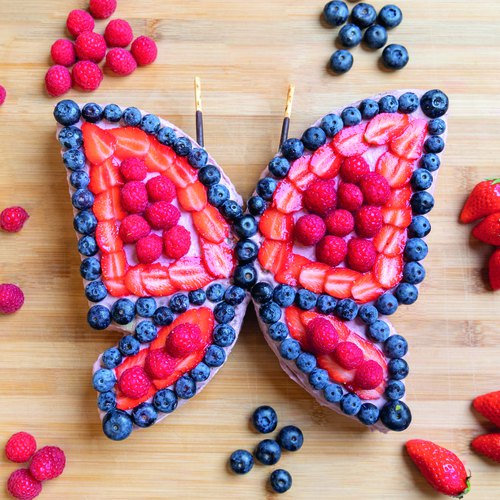 ---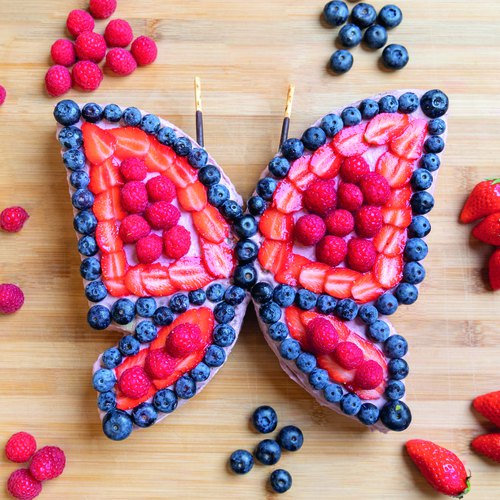 ---
Total time: 1 hour
Prep time: 30 minutes, Cook time: 30 minutes
Ingredients for 8 people
360 g of flour
1 cup of yogurt
345 g of sugar
14 g of brown sugar
6 eggs
55 g of butter (melted)
6 cl of vegetable oil
1 tsp of baking powder
30 cl of heavy cream
70 g of powdered sugar
60 ml of strawberry sauce
Strawberries, raspberries, and blueberries
2 chocolate pocky® sticks
---
Kitchenware
Springform pan
Hand mixer
---
Step 1/2
Combine the flour (2 chefs), eggs, sugar (3 pigs), yogurt (1 chef), oil (1 mouse), butter (1 mouse), brown sugar (1 hen), and baking powder (1 chick). Pour into the hinged mold with baking paper at the bottom and bake for 35 minutes at 180° C. Whisk the whipping cream (1 cat) and powdered sugar (1 cat) together until thick and add the strawberry sauce.
Step 2/2
Cut and assemble the cake as instructed in the video, and cover it with the pink whipped cream. Decorate it with blueberries, strawberries, and raspberries, then add the Pocky stick antennas. Cut and enjoy!