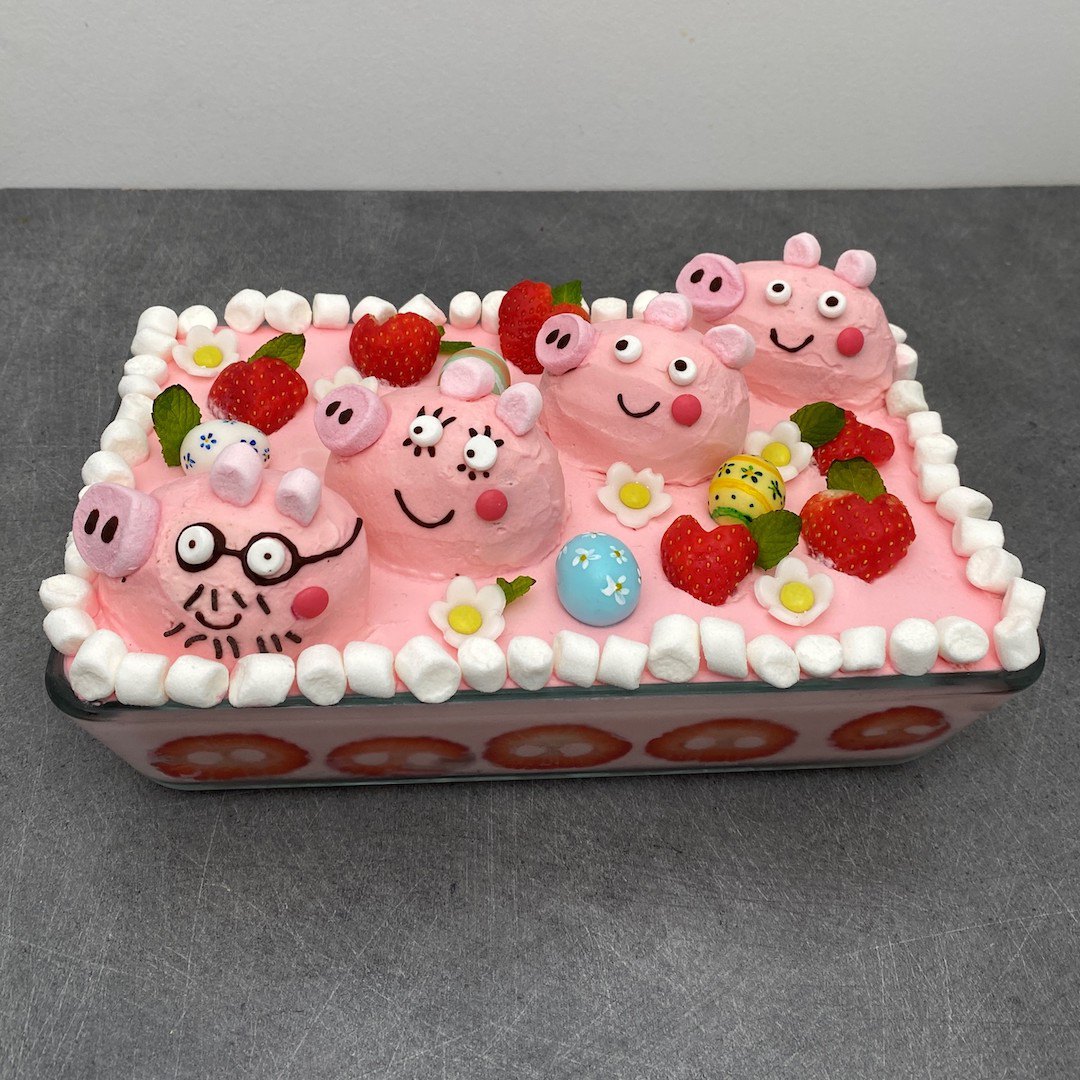 Peppamisu
A yummy strawberry tiramisu starring the whole family 💕
Made by you!
Ingredients
7 strawberries + 3 for the decoration
3 cups cream
1 cup mascarpone cheese
1/2 cup icing sugar
4/5 cup mixed berry sauce
18 sponge fingers
4 chocolate eggs
2 pink marshmallows
1 handful mini marshmallows
8 mini-meringues
1 tbsp dark chocolate
4 coloured candies
Sugar decorations
Mint leaves
Natural red food colouring
Kitchenware
1 straw
1 glass baking dish
Electric mixer
Baking paper
1. Cut the strawberries crosswise into thin slices (1). Poke out two holes in 16 strawberry slices with the help of a straw to make a snout (2). Place these strawberry slices along the edge of a glass baking dish (3).
2. In a bowl mix the cream, mascarpone cheese, powdered sugar, and a drop of natural red food colouring with an electric mixer.
3. Tiramisu assembly: Spread a layer of the pink whipped cream in the glass baking dish and place thin slices of strawberries across the surface (4). Then arrange half of the sponge fingers dipped in the mixed berry sauce (5) on top of the pink whipped cream. Cover with whipped cream and repeat the same process by adding a layer of strawberries, sponge fingers, and whipped cream, filling to the top of the baking dish. Be sure to smooth out the whipped cream well.
4. Decoration: Place the 4 chocolate eggs in a diagonal line across the surface of the cake and cover them with the remaining pink whipped cream to create the heads of the Peppa Pig® family members (6). Cut the pink marshmallows in half to make the pig snouts. Use the mini pink marshmallows to make the ears and the mini meringues to make the eyes on each Peppa Pig® family member (7). Melt the dark chocolate and place it in a piping bag made out of baking paper. Draw on the pupils, eye lashes, nostrils, and mouth of each family member with the melted dark chocolate. Decorate the cheeks with the coloured candies (8) and place mini marshmallows along the edge of the cake. Finish decorating with with heart-shaped cut strawberries, sugar decorations, and mint leaves (9). Serve in slices and enjoy as a family!