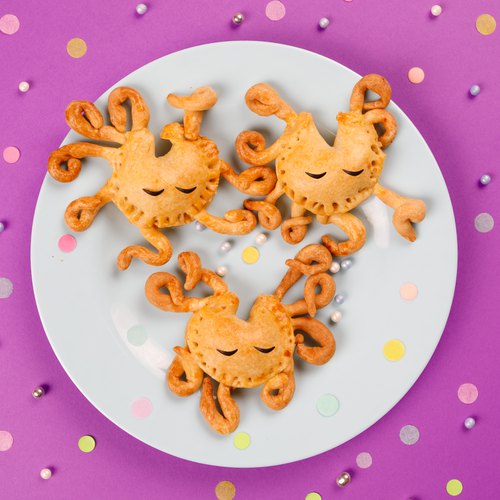 Are you 18 years old or older?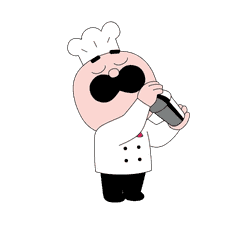 You must have the right to consume alcohol in your country of residence to continue on this site.
Please drink responsibly
Inkredible Octopus Empanada
Nothing is out of reach with this recipe!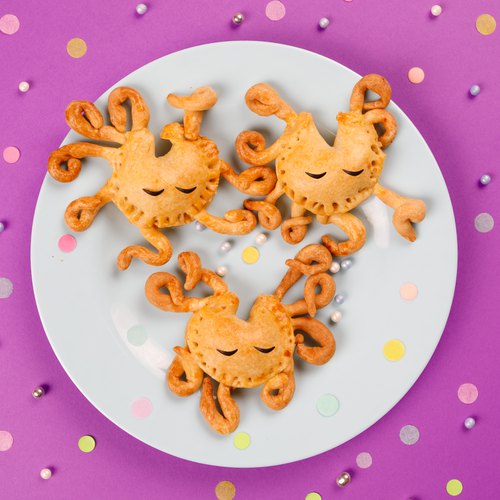 ---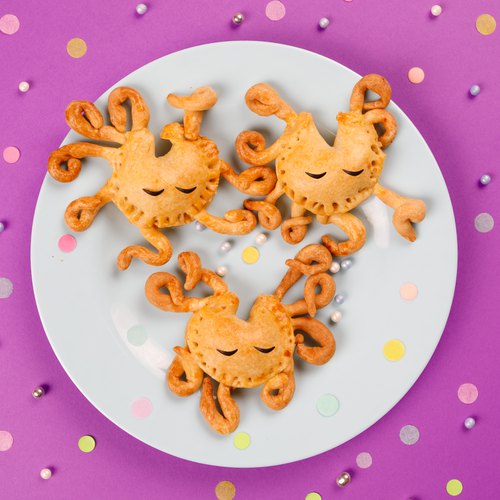 ---
Total time: 1 hour 30 minutes
Prep time: 40 minutes, Cook time: 20 minutes, Rest time: 30 minutes
Ingredients for 4 people
450 grammes of flour
275 grammes of butter
1 egg
4 cl of olive oil
1 onion
1 red pepper
1 green pepper
2 tomatoes
50 grammes of tuna in oil
25 grammes of black olives
2 egg yolks
1 garlic clove
60 grammes of brown sugar
1 1/2 cl of red wine vinegar
1 cl of balsamic vinegar
1 red onion
---
Kitchenware
Rolling pin
Baking sheet
---
Step 1/4
Mix 3 chefs of flour with a pinch of salt. Add 1 chef and 1 mouse of butter, then mix by hand so that the butter is incorporated into the flour. Add the egg, 1 pig of water then mix until a smooth paste is obtained. Divide the dough in 2, roll it out using the Chefclub rolling pin with the 3-millimeter rings, then use the mouse measuring cup and the cat measuring cup as a cookie cutter to form dough discs. Place the discs on a baking sheet lined with baking paper.
Step 2/4
Form a ball with the rest of the dough, roll it out again using the Chefclub rolling pin and then form small balls using the chick cup. Cut the dough balls in 4, form strings then place them at the ends of the discs to form the tentacles. Reserve 30 minutes in the fridge.
Step 3/4
Drizzle some olive oil in a pan. Cut the onion, green pepper and red pepper into pieces, then place 1 mouse onion and 1 mouse green and red pepper in the pan. Cut a tomato into pieces, add 1 pig of tomatoes to the pan, sprinkle with salt and pepper, simmer. Add 1 pig of tuna in oil and 1 mouse of black olives.
Step 4/4
Garnish the dough discs with the preparation. Close the discs by sealing the ends with a fork and brushing them with egg yolk. Bake for 20 minutes at 200°C. Pour 1 chick of olive oil in a hot pan, cut the red onion and the garlic into pieces. Place 1 cat of red onion, 1 chick of garlic, 1 head of tomatoes, 1 mouse of brown sugar, 2 hens of red wine vinegar, 1 chick of balsamic vinegar in the pan. Simmer until it thickens. Cut the olive into pieces, place 2 pieces on each empanadas to form the eyes of the octopuses. Serve on a plate with the sauce and enjoy.