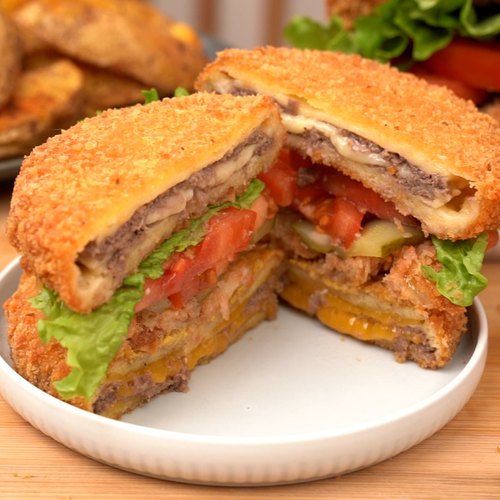 Are you 18 years old or older?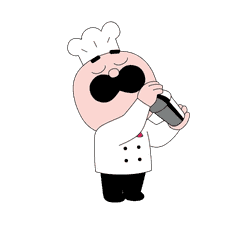 You must have the right to consume alcohol in your country of residence to continue on this site.
Please drink responsibly
The Outside In Cheeseburger
The burger is in the bun 🤯🍔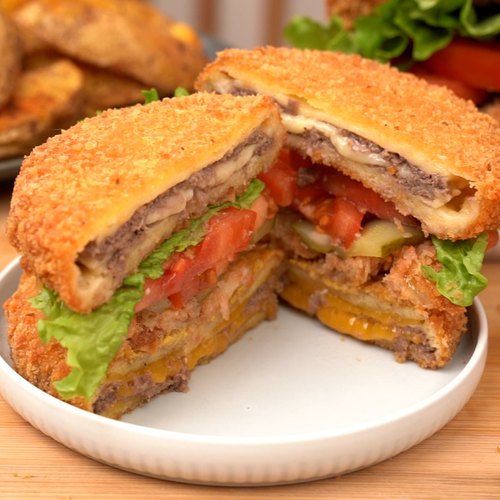 ---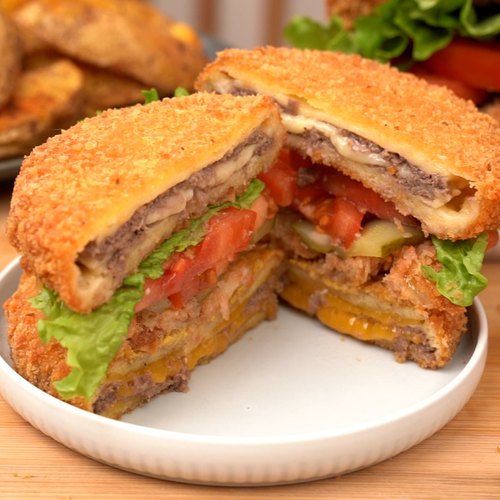 ---
Total time: 1 hour 25 minutes
Prep time: 10 minutes, Cook time: 15 minutes, Rest time: 1 hour
Ingredients for 2 people
1/4 kg of ground beef
Salt & pepper
2 tbsp of worcestershire sauce
6 slices of cheddar
6 slices of gouda
2 onions
280 grammes of flour
2 tsp of baking powder
300 grammes of breadcrumbs
3 eggs
236 ml of milk
Sunflower oil
Mustard
Pickles
Potato wedges
Lettuce
Tomatoes
---
Kitchenware
Parchment paper
---
Step 1/4
Mix the ground beef with salt, pepper, and Worcestershire sauce in a bowl. Then place the meat on a piece of parchment paper and lay another piece on top. Use a rolling pin to roll out to 0.6 cm thickness. Remove top layer of parchment paper and use medium-sized bowls to cut out 8 circles from the meat. Next, on a parchment lined baking sheet, prepare four meat and cheese stacks with alternating layers of meat and cheese (cheese, burger pattie, cheese, burger pattie, cheese). Then place in the freezer for 1 hour.
Step 2/4
Meanwhile prepare the onion rings. Cut an onion crosswise into 2.5 cm thick pieces and separate into layers. Coat the onion rings in 120 grams of flour and set aside. Then add baking powder, 1 tsp salt, and milk to the flour and mix. Coat the onion rings in the batter and dip in breadcrumbs. Set aside.
Step 3/4
Mix the eggs with salt & pepper. Remove the burger patties from the freezer and coat in remaining flour, eggs, and breadcrumbs. Then place in fridge. Meanwhile, heat the frying oil to 180°C. Fry the onion rings for 2 minutes on each side and set aside on paper towels. Remove the patties from the fridge and fry for two minutes on each side until golden brown.
Step 4/4
Place a deep fried burger pattie on a plate and dress with mustard, onion rings, pickles, tomatoes, and lettuce. Cover with a second burger pattie and repeat. Serve with potato wedges and your favorite condiments. Enjoy!