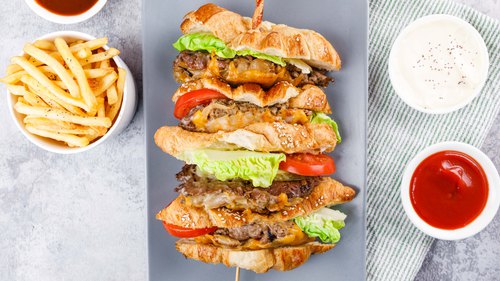 Are you 18 years old or older?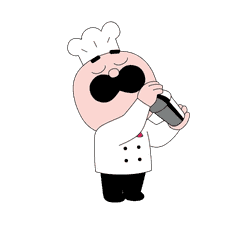 You must have the right to consume alcohol in your country of residence to continue on this site.
Please drink responsibly
The French Flair Burger
The French Flair Burger! This recipe will have you saying 'yum la la' 😉🍔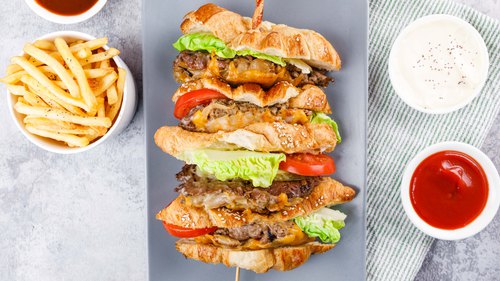 ---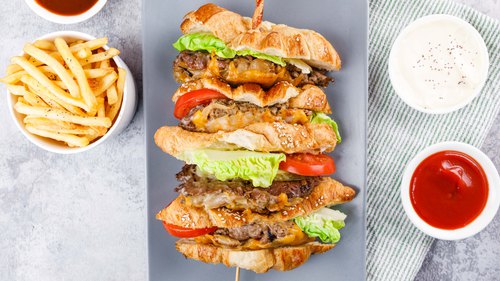 ---
Total time: 1 hour
Cook time: 1 hour
Ingredients for 3 people
1 puff pastry
2 tbsp of sesame seeds
1 egg
1/2 kg of ground beef
100 grammes of caramelized onions
6 slices of cheddar
Tomatoes
Lettuce
Pickles
Fries
6 slices of bacon
237 ml of whiskey
57 grammes of brown sugar
---
Kitchenware
Skewers
Meat press
Brush
---
Step 1/4
Preheat oven to 180°C. Roll out the puff pastry (not too thin). Cut into large triangles. Roll the dough around the handle of a wooden spoon. Slide off of the spoon and place onto a parchment lined baking sheet. Pinch the ends and form a slight crescent shape. Repeat with all the triangles. Brush with beaten egg and sprinkle sesame seeds on the croissants. Bake 20 minutes or until golden brown.
Step 2/4
Preheat the oven to 160°C. Take two wooden skewers. Wrap each one with a slice or two of bacon. Brush with Jack Daniels. Sprinkle each skewer with brown sugar and place onto a parchment lined baking sheet. Bake for 15 minutes, turning the pan halfway through the cooking to ensure the bacon is cooked evenly.
Step 3/4
Preheat the griddle to high heat. Place two balls of hamburger meat on the griddle. Use the meat press to flatten out the meat. Top with caramelised onions. Place 2 slices of cheddar cheese onto a similar size piece of parchment paper. Melt the cheese on the parchment paper on the griddle. Flip the paper over onto the caramelized onion hamburger. Use a large spatula to transfer the meat to a cutting board.
Step 4/4
Take two croissants and slice them vertically lengthwise into 3 parts each. Lay the slices flat on a plate or cutting board. Begin layering with lettuce, tomato, pickles and any of your favorite hamburger toppings.