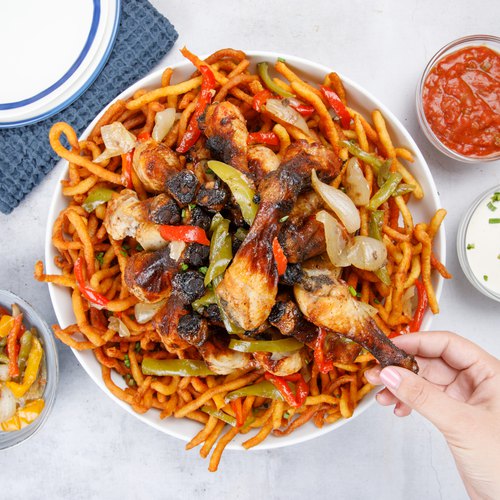 Are you 18 years old or older?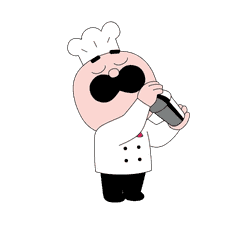 You must have the right to consume alcohol in your country of residence to continue on this site.
Please drink responsibly
Honey Chicken Drumsticks
Honey, dinner is ready :)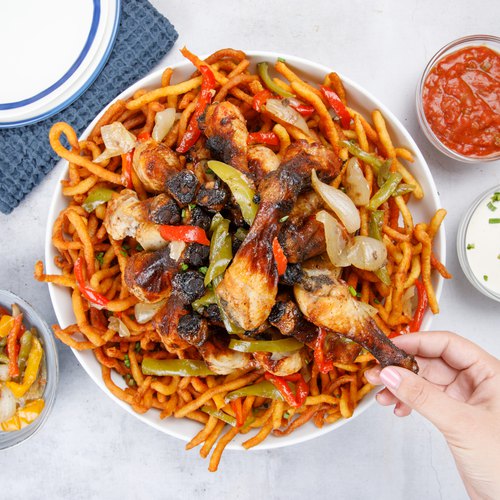 ---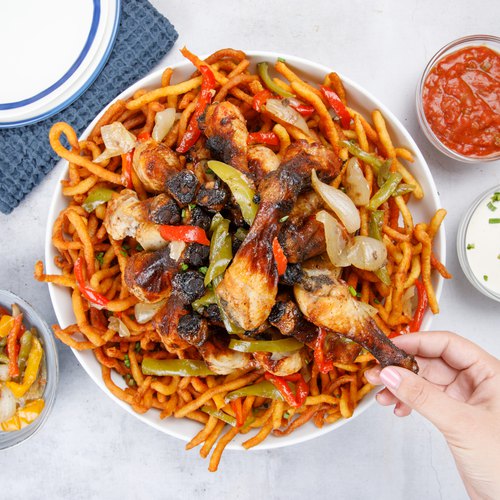 ---
Total time: 1 hour 55 minutes
Prep time: 25 minutes, Cook time: 1 hour , Rest time: 30 minutes
Ingredients for 6 people
6 honeycomb squares
78 ml of apple cider vinegar
Salt & pepper
2 tbsp of paprika
4 tbsp of garlic powder
12 chicken drumsticks
3 onions
1 red pepper
1 green pepper
Sunflower oil
500 grammes of mashed potatoes
2 eggs
Ranch dressing
Hot sauce
---
Step 1/3
Place the honeycomb pieces in a pan and add in the apple cider vinegar, salt, pepper, paprika, and garlic powder. Next, coat the drumsticks in the honeycomb marinade and let marinate in the fridge for 30 minutes (Alternatively, mix the spices with 85g of honey in a bag and marinate). Meanwhile, slice the bell peppers and onions and place in a baking dish. Once the chicken is ready, place the legs in between the slots of an oven rack, put in the oven with the veggie dish below, and bake for 50 minutes at 200°C.
Step 2/3
Heat the oil to 180°C in a large pan. Mix leftover mashed potatoes with the eggs and flour, then add to a potato ricer and press into the hot oil. Remove once golden brown and place on paper towels to remove excess oil.
Step 3/3
Place the fries into a large circular dish and stack the drumsticks in the center as seen in the video. Serve with the cooked veggies and your favorite dipping sauces. Enjoy!