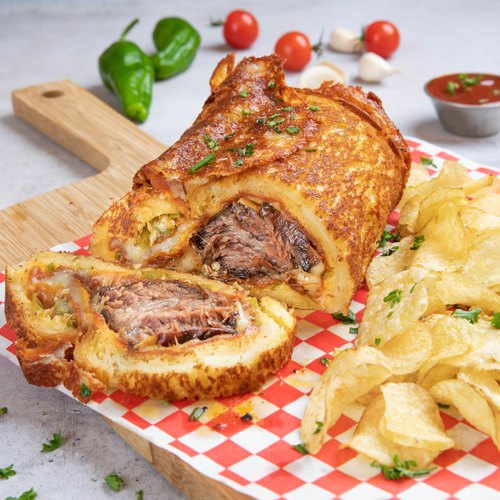 Are you 18 years old or older?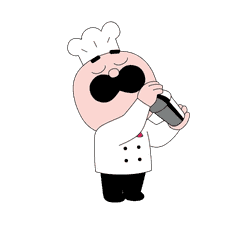 You must have the right to consume alcohol in your country of residence to continue on this site.
Please drink responsibly
The Crispy & Tender Short Rib Wrapped in Grilled Cheese Sandwich
The best of both worlds in your hands :)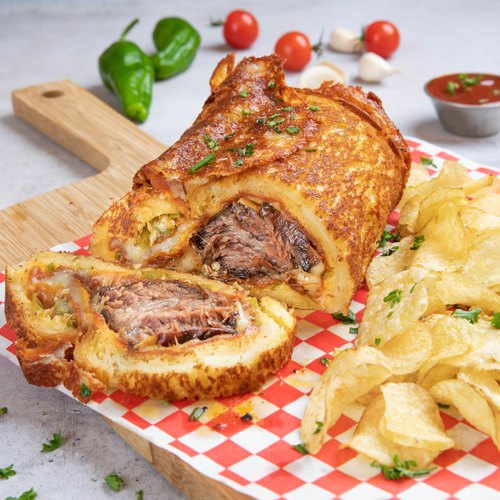 ---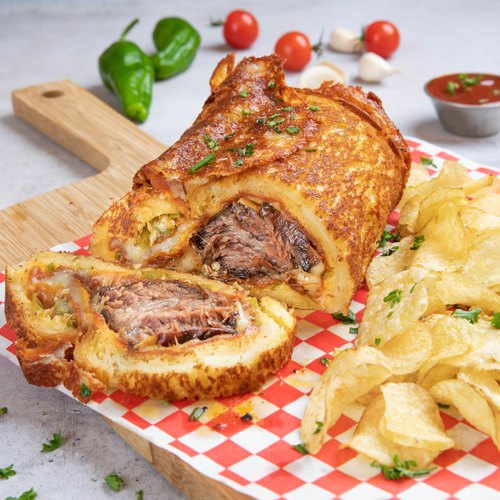 ---
Total time: 4 hours 45 minutes
Prep time: 15 minutes, Cook time: 4 hours 30 minutes
Ingredients for 8 people
16 garlic cloves
4 beef ribs
100 grammes of bbq seasoning
60 grammes of brown sugar
2 tsp of salt
60 ml of olive oil
Loaf of bread
Cheddar block
4 jalapeños
4 tbsp of butter
170 grammes of grated mozzarella
Chives
Chips
---
Kitchenware
Electric griddle
Skewers
---
Step 1/2
Place 4 garlic cloves on each skewer, cut a slit in the center of each rib strip, and stick a garlic skewer inside. Then remove the skewer, keeping the garlic inside. Mix the BBQ seasoning, salt, and brown sugar, then rub over the ribs with olive oil. Let marinate in the fridge for 2 hours. Afterwards bake at 105°C for 4.5 hours.
Step 2/2
Cut a slice of bread lengthwise. Add a large rectangle of cheddar the size of the bread slice to the electric griddle. Let melt slightly, then add slices of 1 jalapeño and the bread on top. Press 1 tbsp butter on top of the bread using a garlic press, spread out, and flip over to cook the buttered side. Sprinkle with mozzarella and let melt. Place one of the rib slices at the end of the sandwich, remove the bones, and roll the grilled cheese around it. Repeat 3 more times. Sprinkle with chives, cut in half, and serve with chips. Enjoy!