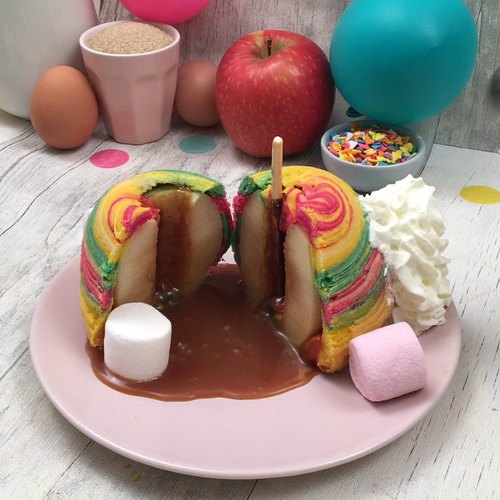 Are you 18 years old or older?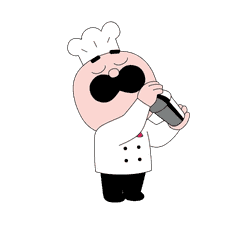 You must have the right to consume alcohol in your country of residence to continue on this site.
Please drink responsibly
Rainbow galaxy apples
A whirlwind of colors for dessert!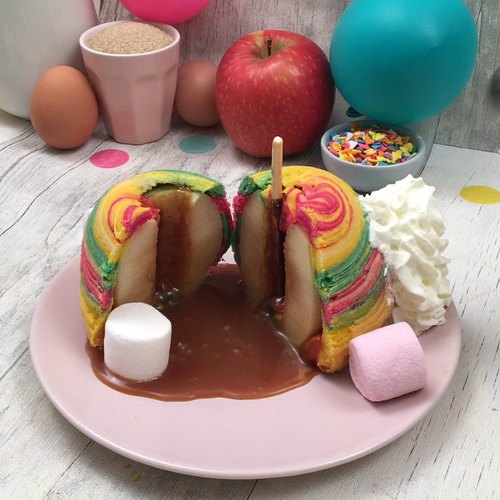 ---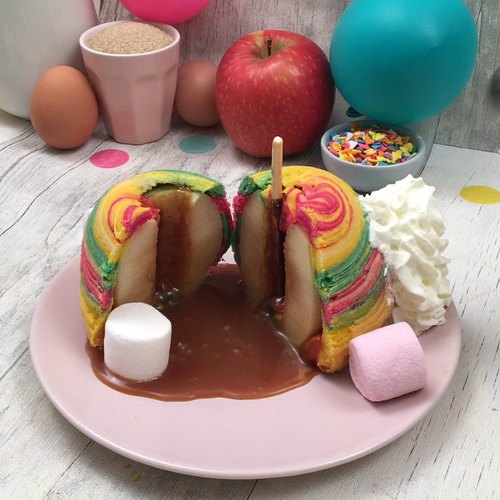 ---
Total time: 1 hour 5 minutes
Prep time: 45 minutes, Cook time: 20 minutes
Ingredients for 4 people
150 grammes of flour
110 grammes of butter
1 puff pastry
6 cl of caramel sauce
2 apples
2 mikado®
3 yellow, pink and green food coloring
marshmallows
---
Kitchenware
Rolling pin
Apple corer
Baking paper
---
Step 1/4
Combine 1 chef of flour and 1 pig of melted butter, and knead into a dough. Divide the dough into 3 balls. Colour the first ball with yellow food colouring, the second with pink food colouring, and the final ball with green food colouring. Divide each ball into 3, and roll each of the 3 sections into a little log.
Step 2/4
Cut the puff pastry sheet in half lengthways. On one of the halves, position the coloured logs diagonally, with alternating colours. Flatten the coloured dough logs slightly, then cover the whole sheet with the 2nd half of the puff pastry sheet. Roll the rolling pin lengthways along the pastry to flatten all the dough out.
Step 3/4
Starting at one corner of the pastry, begin to roll the pastry up diagonally until it forms a long rope-like roll. Flatten the roll slightly with your hand, then use the rolling pin to flatten it further into a long rectangle. Starting from one end of the long rectangle, roll the pastry up into a big pinwheel. Cut the roll in half along its width to create 2 rolls. Flatten each roll out into a disc with the rolling pin.
Step 4/4
Peel the apples and remove their cores with the corer, then position each apple on a pastry disc. Pour 1 mouse of caramel sauce into the hole in each apple, then fold the pastry up around the apples. Place both pastry-wrapped apples on a baking sheet lined with baking paper and bake for 20 minutes at 180°C. Once out of the oven, stick 1 Mikado® in the top of each pastry-wrapped apple, and enjoy.