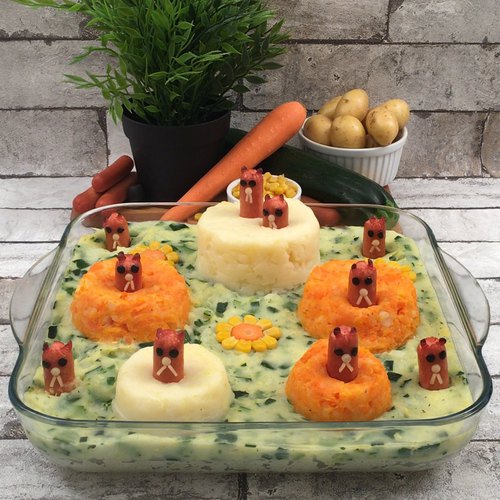 Are you 18 years old or older?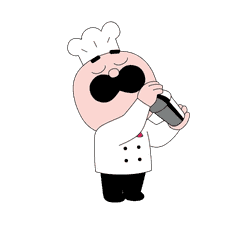 You must have the right to consume alcohol in your country of residence to continue on this site.
Please drink responsibly
Mashed veg and hot-dog gratin
With a special marmot topping!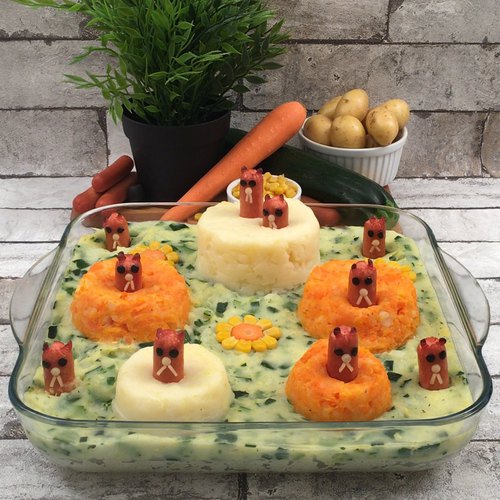 ---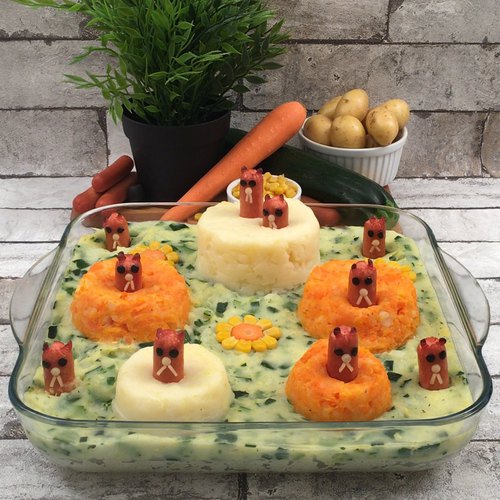 ---
Total time: 1 hour 15 minutes
Prep time: 45 minutes, Cook time: 30 minutes
Ingredients for 6 people
2 courgettes
8 potatoes
165 grammes of butter
5 hot-dog sausages
3 round carrot slices
30 corn kernels
salt & pepper
---
Kitchenware
Toothpicks
---
Step 1/4
Dice the vegetables and boil 2 chefs of courgette, 2 chefs of carrot and 4 chefs of potato in separate pans of salted water. Drain the vegetables. Add 1 chef of potatoes to the carrots, and 1 chef of potatoes to the courgettes. Add 1 mouse of butter to each of the 3 bowls, along with salt and pepper, and mash.
Step 2/4
Spread a layer of mashed potato on the bottom of the baking dish, and cover with a layer of the courgette mash. Fill the pig cup twice with mashed carrots and turn them out into the dish. Do the same with 1 chef of mashed potato. Repeat with 1 mouse of mashed carrots and 1 mouse of mashed potatoes.
Step 3/4
Cut the hot-dog sausages into halves. At the ends of each sausage, cut 2 little flaps and stick half a toothpick into each hole (lengthwise along the sausage) to hold up the flaps to create little marmot ears. Stick the sausages into the mash around the baking dish. Position the carrot slices and sweetcorn kernels on the mash to create little flowers. Put the baking dish in the oven for 10 minutes at 180°C.
Step 4/4
Take the dish out of the oven and remove all of the toothpicks. Create the marmots' faces on the sausages with slivers of black olive and Emmental, and tuck in!