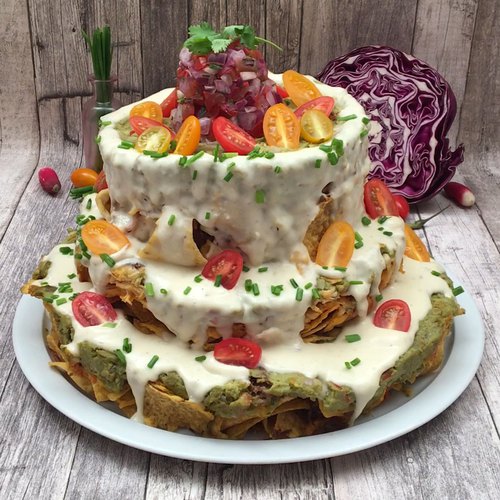 Nacho Layer Cake
Who wants this at their wedding?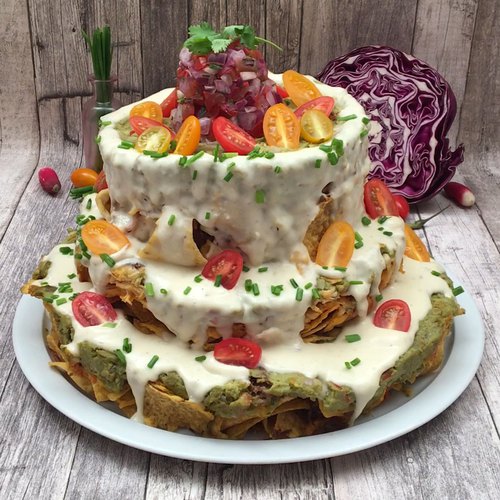 ---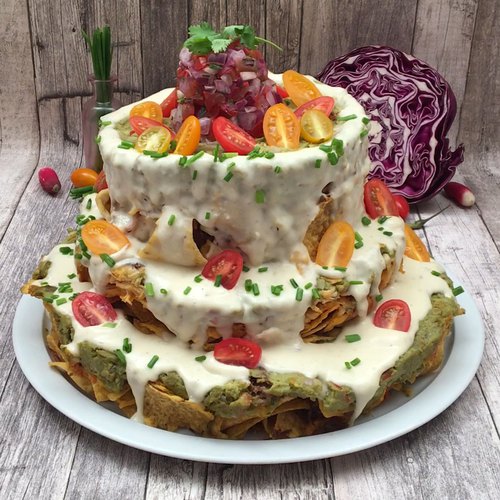 ---
Ingredients for 8 people
1 large tomato
1 red onion
1 lime
salt and pepper
1 bunch of cilantro, plus more for garnish
3 bags of tortilla chips
3 cups of shredded cheese (mexican blend)
3 cups of guacamole
1/2 lb of shredded salsa beef
1 bunch of chives, plus more for garnish
1/2 lb of shredded buffalo chicken
1/2 a red cabbage
1/2 lb of shredded bbq pork
10 radishes
bbq sauce
queso or cheese sauce
cherry tomatoes, for garnish
---
Tools
Spring-form pans, in various sizes
---
Step 1/4
Cube the tomato and onion, mix with cilantro, lime juice, salt, and pepper. Set your pico de gallo aside. Preheat your oven to 350°F, and place the ring of your largest springform pan on a sheet of parchment paper (if your pan is not non-stick, also line the edges of the pan). Starting with chips, layer chips, beef, cheese, and chives in that order until the pan is almost full. Cover in a layer of guacamole and bake for 10 minutes.
Step 2/4
Repeat the same process with the springform pan, parchment and layering with your other two layers. The middle tier is chips, buffalo chicken, cheese, red cabbage repeated until almost full then covered in guacamole. The smallest tier is chips, shredded pork, cheese, radishes repeat then cover in guacamole. Bake for 10 minutes each.
Step 3/4
Unmold the layers one on top of another. Cover the whole structure in queso and place your pico de gallo on top. Decorate the "cake" with cherry tomatoes and more chives. Then enjoy!
Step 4/4
*NOTE*: if you don't want to bake your guacamole, simply put each layer in the oven without guacamole and when it comes out of the oven spread your guacamole over the chips while the nachos are still in the pan. Then follow the same steps to stack and unmold your beautiful creation.