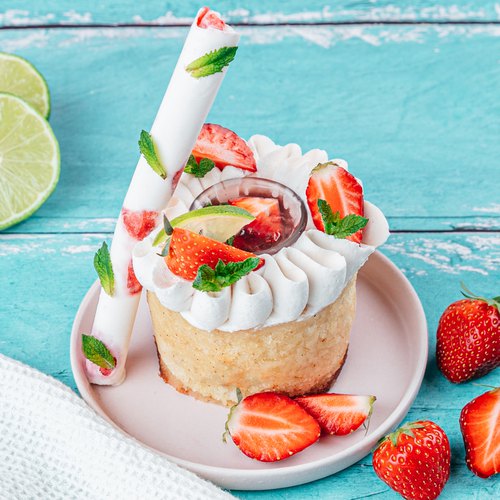 Strawberry Mojito Dessert
Strawberry Mojito Dessert! It's a cocktail & cake 🍓🍰🍹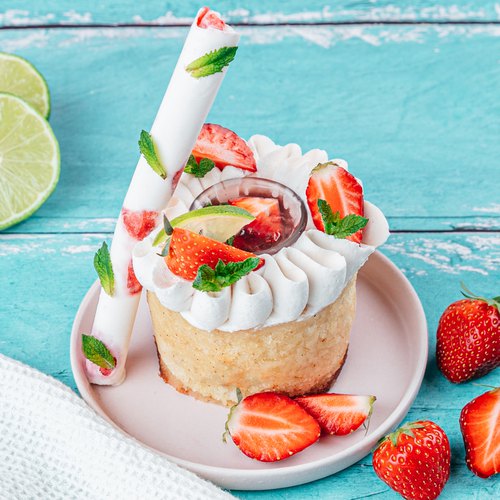 ---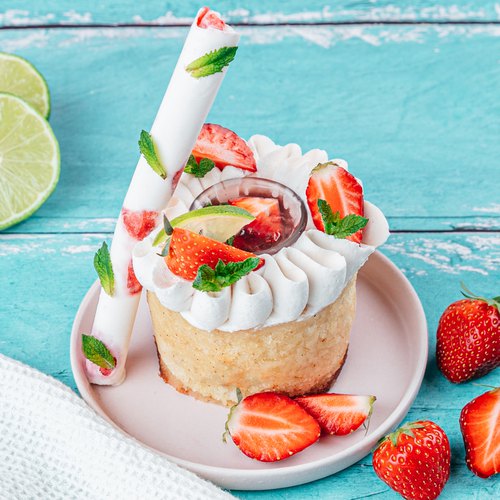 ---
Total time: 2 hours 5 minutes
Prep time: 35 minutes, Cook time: 1 hour , Rest time: 30 minutes
Ingredients for 3 people
3 1/2 oz of white chocolate
1 3/4 cups of flour
7 tbsp of butter
3/5 cup of sugar
2 vanilla bean
5 egg
6 strawberries
15 leaves of mint
1 1/2 cups of rum
1 1/2 cups of cane sugar syrup
0.4 cup of heavy cream
1 lime
1 cup of brown sugar
1 tsp of baking powder
---
Tools
parchment paper
Small round cookie cutter
Electric hand mixer
Piping bag
---
Step 1/4
Melt the white chocolate. Mix the flour, the butter, the sugar, a scraped vanilla pod, the eggs, the baking powder, the white chocolate until you obtain a smooth batter. Pour the batter into a rectangular mold. Bake for 1 hour at 350°F.
Step 2/4
Cut 3 strawberries into slices, place them on the 3 rectangles of parchment paper, place the mint leaves. Pour the white rum, the cane sugar syrup, the heavy cream into the shaker and mix. Whip the mixture using an electric hand mixer. Place the whipped cream in a piping bag. Pipe lines of whipped cream on the strawberry slices, roll up the parchment paper to form rolls and refrigerate for 30 minutes.
Step 3/4
Heat 0.4 cups of water, the brown sugar, a scraped vanilla pod, the rum until you obtain a syrup. Unmold the cake, cut off the top, cut out 3 circles in the cake using a circular cookie cutter. Unmold the 3 circles from the rest of the cake, hollow out a space in the center of the cake circles with the shot glasses. Pour the rum syrup into the shot glasses and pour it into the space in the center of the cake circles. Cut the lime into pieces. Mix the lime, the mint leaves in the shaker, add the white rum, 0.4 cups cl of rum syrup, the ice cubes and mix to obtain a mojito.
Step 4/4
Cut the remaining strawberries into pieces. Pour the mojito into the shot glasses, add the strawberry pieces, place the glasses in the space in the center of the cakes. Pipe lines with the rest of the whipped cream around the shot glasses, arrange the rest of the strawberries, the rest of the lemon, the mint leaves. Place the straws in the whipped cream and enjoy!