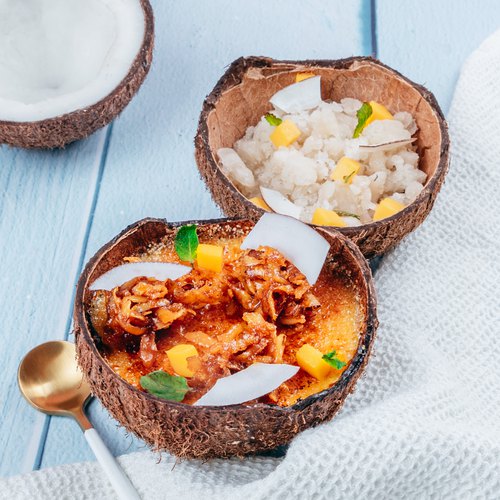 Coconut Crème Brûlée
Coconut Crème Brûlée! A tropical take on your favorite dessert 😚🥥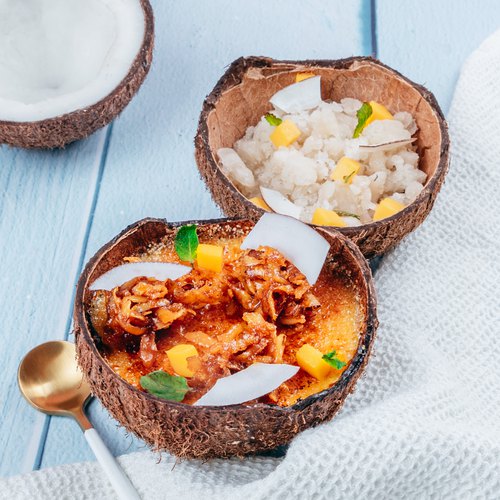 ---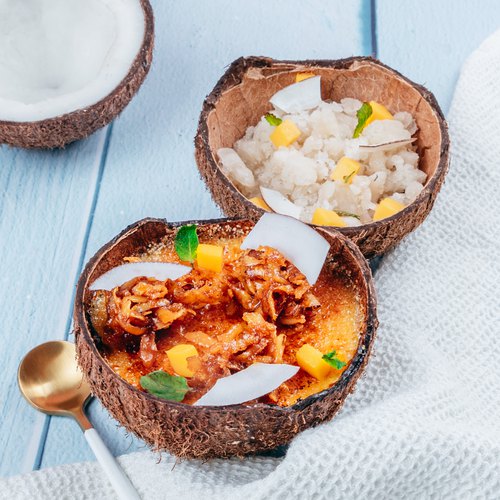 ---
Total time: 1 hour 50 minutes
Prep time: 20 minutes, Cook time: 1 hour , Rest time: 30 minutes
Ingredients for 3 people
3 coconuts
1 pint of chefclub coconut ice cream
6 egg yolks
4 tbsp of brown sugar
4 tbsp of sugar
1 mango
Mint leaves
3/4 cup of rum
3/4 cup of pineapple juice
1/2 cup of coconut milk
---
Tools
Ramekins
Plastic cups
---
Step 1/3
Cut the coconuts in half, heat the bottom of each half-coconut. Place in cold water and scoop out the flesh of the coconut. Arrange the small ramekins in a dish and place half a coconut on each of them. Mix the Cheflcub coconut ice cream and egg yolks, then pour the crème brûlée mixture into 3 coconut halves. Fill the dish halfway with water to cook in a double boiler. Bake for 1 hour at 230°F.
Step 2/3
Take out the coconuts with the crème brûlée, cover them with brown sugar, then heat a tablespoon and place it on the sugar to caramelize it. Repeat for each half coconut. Heat the sugar in a saucepan to obtain a caramel and grate the coconut flesh. Put a spoonful of grated coconut aside before pouring the rest into the caramel. Make small caramel coconut balls using two small spoons and place them on the crème brûlée. Remove the skin from the mango, cut it into small pieces, then add a few pieces of grated coconut and mango to the crème brûlée. Add a few mint leaves.
Step 3/3
Mix the rum, pineapple juice and coconut milk. Pour the mixture into 3 plastic cups. Add a teaspoon to each cup before placing them in the freezer for 30 minutes. Unmold the ice cream and grate it. Fill the remaining 3 coconut half-shells with the granita. Add a few pieces of mango, grated coconut and mint leaves. Place a coconut with crème brûlée and half a coconut with granita on each plate. Serve and enjoy!