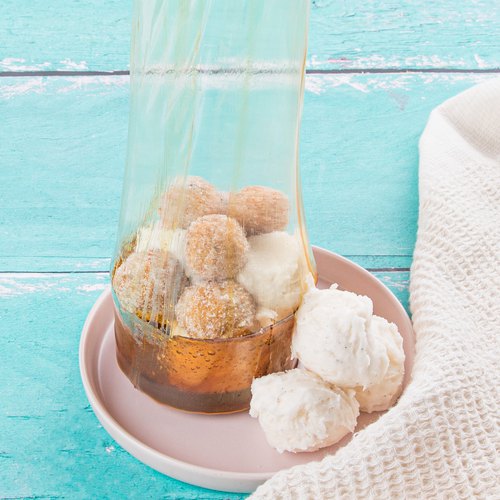 Apple Donut Holes & Ice Cream
Apple Donut Holes & Ice Cream! With an edible caramel cup 😚🍦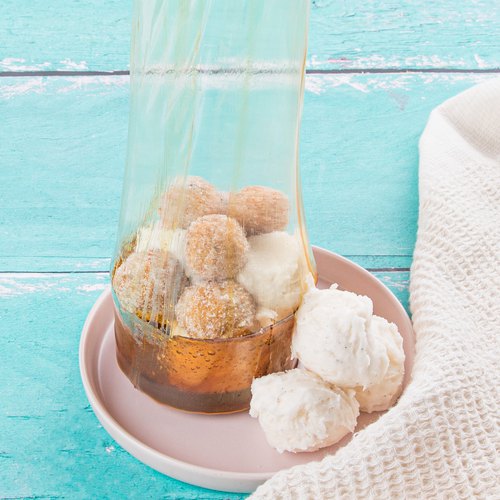 ---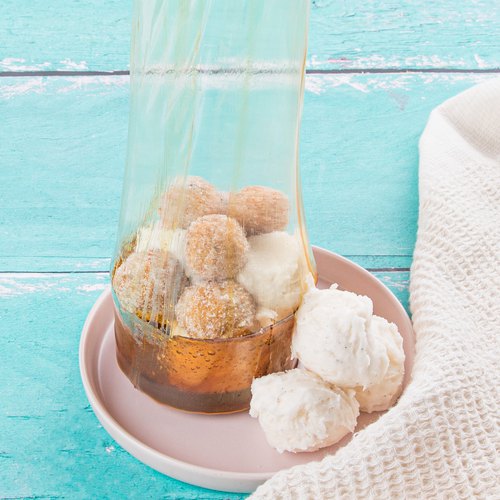 ---
Total time: 1 hour 15 minutes
Prep time: 35 minutes, Cook time: 10 minutes, Rest time: 30 minutes
Ingredients for 3 people
1/2 cup of flour
1 granny smith apples
1 cup of sugar
1 pint of chefclub vanilla ice cream
Frying oil
---
Tools
Rolling pin or metal rod
Melon baller
Circular cookie cutter
---
Step 1/3
Mix the flour, 4 tbsp of water until obtaining a smooth dough, reserve it 30 minutes cool. Degas the dough, spread a pinch of flour on the work surface to work the donut dough, spread the dough using a rolling pin to form a rectangle. Cut the apple into pieces. Sprinkle the dough with apples and roll the dough on itself. Form balls of dough and fry in hot oil. Drain, then sprinkle with 4 tbsp of sugar.
Step 2/3
Melt the rest of the sugar in a saucepan, stirring until you get caramel. Pour the caramel into a ramekin, spread it over the entire surface of the ramekin and pour the excess into the pan. Leave to cool and unmold the caramel.
Step 3/3
Add scoops of Chefclub vanilla ice cream into the caramel ramekin using a melon baller. Place the little donuts in the caramel ramekin, alternating the ice cream and the donuts. Dip the end of the circular cookie cutter in the remaining caramel, gently remove it to form a bubble of caramel. Place the caramel ramekin inside the cookie cutter then gently stretch the cookie cutter upwards and cut to the desired height using a heated knife. Place the caramel tower on a plate, add scoops of vanilla ice cream and enjoy!