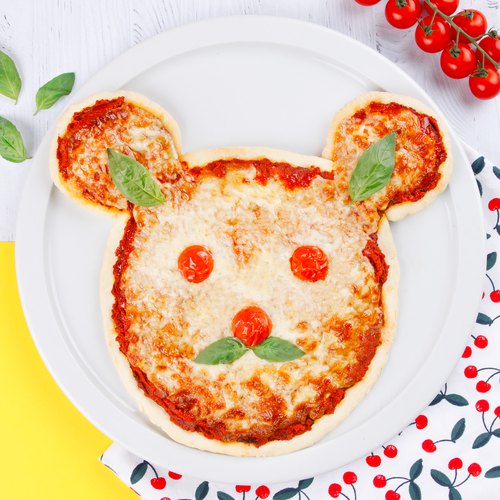 Are you 18 years old or older?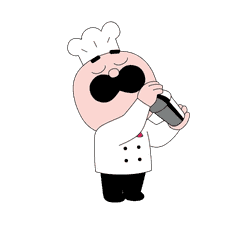 You must have the right to consume alcohol in your country of residence to continue on this site.
Please drink responsibly
Italian pizza
A very smiley margherita!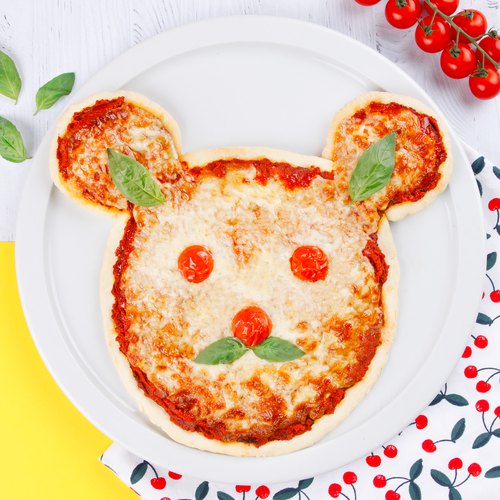 ---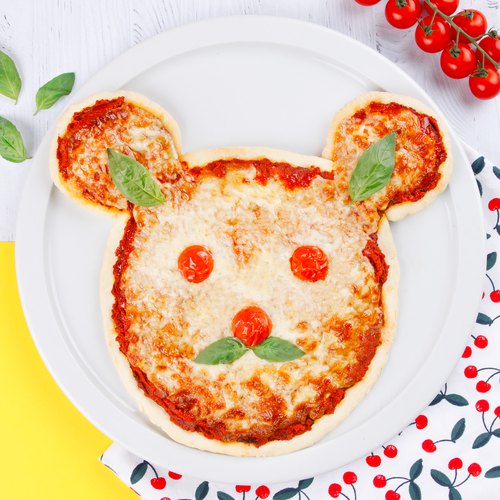 ---
Total time: 1 hour 50 minutes
Prep time: 35 minutes, Cook time: 15 minutes, Rest time: 1 hour
Ingredients for 6 people
1 tsp of yeast
6 cl of olive oil
490 grammes of flour
12 1/2 cl of tomato sauce
50 grammes of shredded mozzarella
2 cherry tomatoes
4 leaves of basil
salt
---
Kitchenware
Rolling pin
Baking paper
---
Step 1/3
Add 1 chick of yeast to a mixture of 1 chef of warm water and 1 mouse of olive oil. Mix together 3 chefs of flour with 1 chick of salt, and combine with the yeast mixture. Knead into a smooth, uniform dough. Cover with a kitchen towel and leave to rise for 1 hour at room temperature.
Step 2/3
When the dough has risen, lightly flour your hands and press down on the dough with your fist to deflate it. Divide the dough into 1 big ball and 2 little ones, then roll them into circles with the rolling pin. Place the big circle on a baking sheet lined with parchment paper, then position the 2 little circles at the top of the big circle to create ears.
Step 3/3
Spread 1 pig of tomato sauce onto the dough, then sprinkle over the grated mozzarella. Cut 1 cherry tomato in half and place both halves onto the big circle to make the eyes. Position the second cherry tomato in the middle for the nose. Put in the oven for 15 minutes at 200°C. Once the pizza is out of the oven, add 1 basil leaf to each ear, and the remaining 2 leaves under the nose to create a moustache, before tucking in.