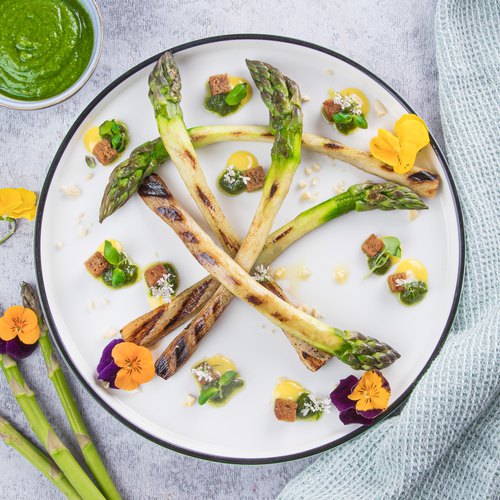 Wilfried Romain's Spring Asparagus
Simple and delicious - The best of French cooking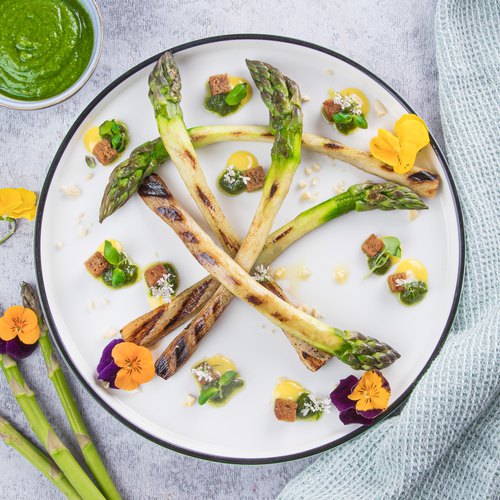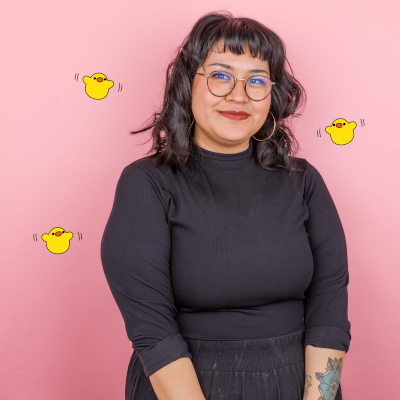 "Chef Wilfried Romain from Top Chef France takes over our kitchens to prepare his springtime asparagus recipe."
Total time: 42 minutes
Prep time: 30 minutes, Cook time: 12 minutes
Ingredients for 4 people
1 tbsp of mustard
1 egg yolk
3/4 cup of olive oil
3/5 cup of vegetable oil
2 tsp of white balsamic vinegar
1 pinch of coarse sea salt
1 pinch of fresh ground black pepper
1 egg white
3/4 cup of pine nuts
1 3/4 cups of pecorino cheese
5 bunches of fresh basil
3 cloves of garlic
1 rye bread
1 1/2 tbsp of butter
1 bunch of asparagus
3/4 cup of cashews
6 chive blossoms
3 edible flowers
1 bunch of young basil
---
Tools
Hand mixer
Piping bags
Paper towels
---
Step 1/4
Mix the mustard, egg yolk, white balsamic vinegar. Gradually add half of the olive oil, rapeseed oil. Add the sea salt, and pepper until you obtain a homogeneous mayonnaise. Beat the egg whites until stiff, add them gradually to the mayonnaise and mix again to obtain a creamy mousse, place it in a piping bag and set aside.
Step 2/4
Place the pine nuts on a lined baking sheet and bake for 5 minutes at 350°F to roast the pine nuts. Blend the pecorino, basil, garlic and pine nuts in a blender and add the remaining olive oil to obtain a pesto, place in a piping bag and set aside.
Step 3/4
Cut the rye bread into small squares of the same size, cook them in a buttered frying pan over medium heat for a few minutes, place them on a paper towel and set aside. Peel the asparagus and blanch in boiling salted water for 3 minutes. Cook them for 5 minutes on the grill, pressing with a spatula to sear them well.
Step 4/4
Crush the cashews. Place the asparagus on the center of a plate, sprinkle with the cashews, and squeeze small circles of the cream mousse and pesto on the plate. Arrange the bread crumbs, chive flowers and baby basil on the sauce, place the edible flowers and enjoy.
Chefclub's Tips & Hacks
If you don't have edible flowers, you can replace them with baby arugula.