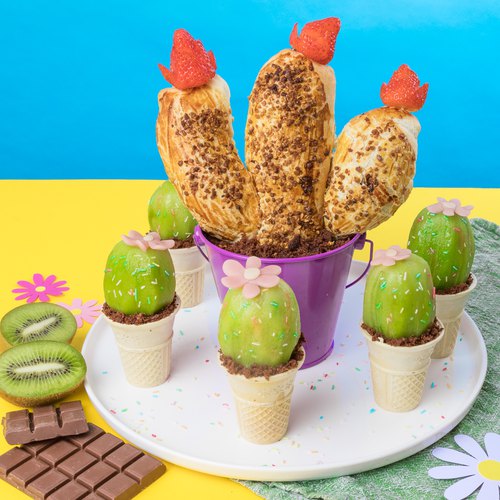 Cactus Kids Snack
Cactus Kids Snack! Try this succulent treat 😊🌵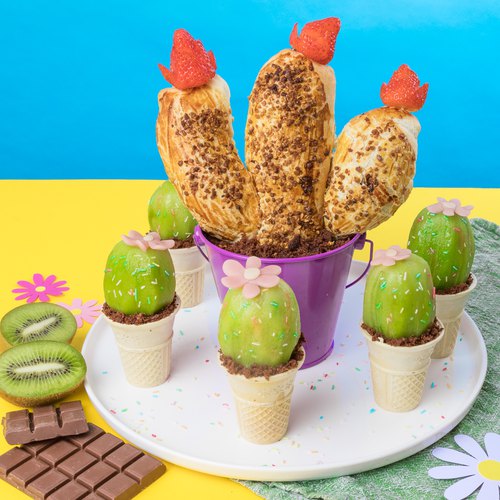 ---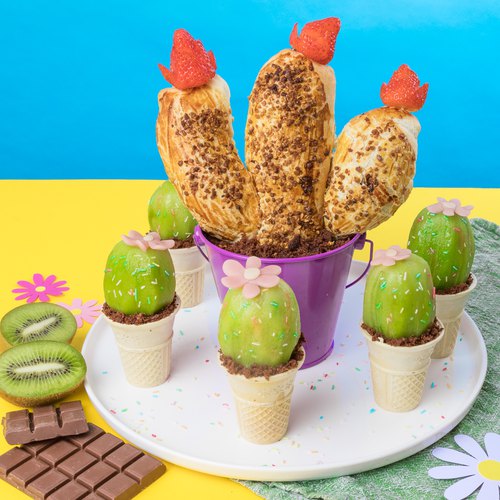 ---
Total time: 1 hour 15 minutes
Prep time: 40 minutes, Cook time: 35 minutes
Ingredients for 5 people
6 oz of dark chocolate
1 cup of butter
1 cup of sugar
1/2 cup of flour
2 tsp of yeast
5 ice cream cones
5 kiwis
1 tsp of sprinkles
2 bananas
1 egg yolk
1 tbsp of hazelnut praline
1 puff pastry
3 strawberries
---
Tools
Toothpicks
Flower pots
---
Step 1/3
Mix 1 chef of dark chocolate, 1 pig of melted butter, 1 pig of powdered sugar, 2 cats of flour, 1 hen of yeast and the eggs until you obtain a smooth cake batter. Set aside 1 chef of cake batter, pour the rest of the preparation into the cake mold and bake for 20 minutes at 375°F.
Step 2/3
Crumble the chocolate cake. Fill a large container and each cone with chocolate cake using the mouse cup. Peel the kiwis and coat them with sprinkles. Place them on the cones. Form pink marzipan flowers and arrange them on the kiwis.
Step 3/3
Take the bananas and lay them on the rolled out puff pastry along with the chocolate cake batter. Close the puff pastry dough around the bananas. Brush with egg yolk and sprinkle with praline. Bake 20 minutes at 375°F. Place the banana puff pastry in the large container with crumbled chocolate cake. Serve with the kiwi ice cream cones. Enjoy!