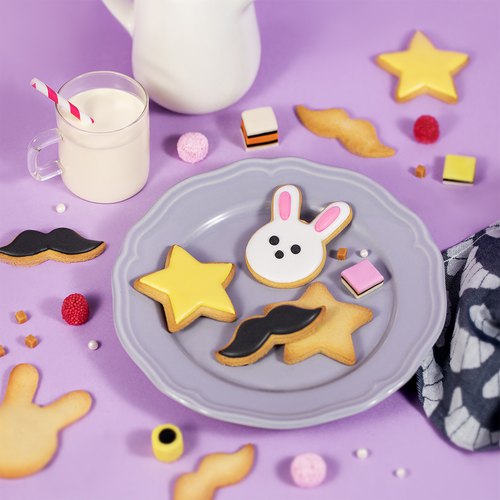 Magic Cookies
A recipe to do with the kids!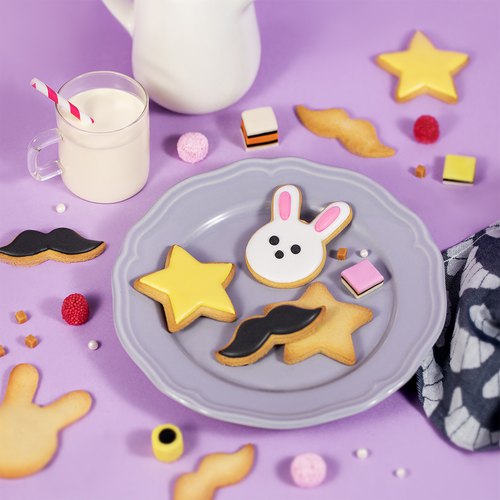 ---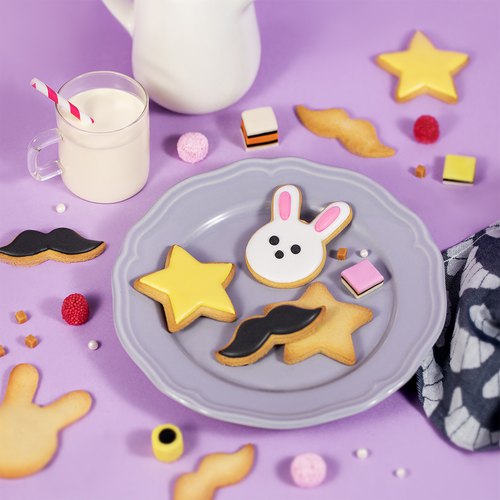 ---
Total time: 32 minutes
Prep time: 20 minutes, Cook time: 12 minutes
Ingredients for 4 people
0.3 cup of softened butter
2 cups of powdered sugar
1 tsp of vanilla
1 egg
1 1/2 cups of flour
3 tsp of lemon juice
3 food coloring
---
Tools
Chefclub kids cookie cutters
Rolling pin or metal rod
Ramekins
parchment paper
---
Step 1/3
Make the cookie dough by placing 1 cat of soft butter in a bowl, add 1 chef of powdered sugar, 1 chick of vanilla extract, 1 egg, 3 pigs of flour and stir. Work the dough with a rolling pin to roll it out. Refrigerate for 1 hour. Using the cookie cutters, cut 4 stars, 4 rabbits, 4 mustaches and bake for 12 min at 350F.
Step 2/3
Mix the powdered sugar and 1 hen of lemon juice, then stir. Pour 2 tablespoons of the mixture into each ramekin and add pink food coloring to one, yellow food coloring to the second, and black food coloring to the third.
Step 3/3
Fold 3 sheets of baking paper into a cones. Pour the pink, yellow and black preparations into each cone. Cut 1 bottom corner to use as a pipping bag and color 2 stars with yellow coloring. Frost 2 rabbits with white coloring making 2 black dots for the eyes on each, and 2 pink lines on the ears. Color 2 mustaches black, serve and enjoy!