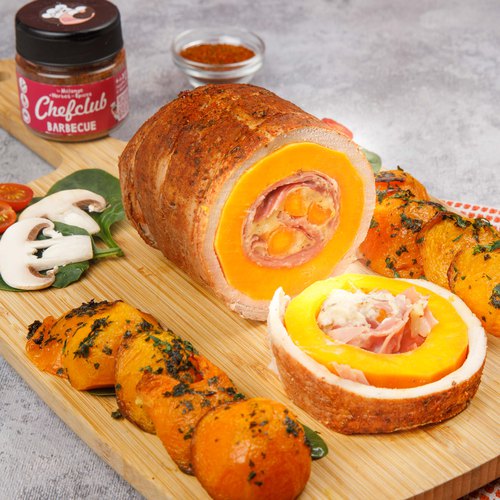 Sassy Squash & Filet Mignon
Sassy Squash & Filet Mignon! Discover this great recipe 😚🍄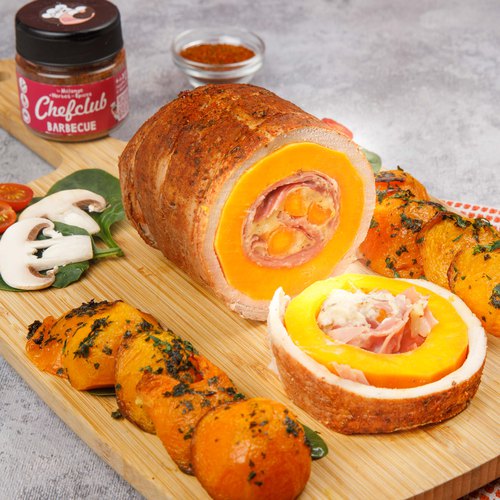 ---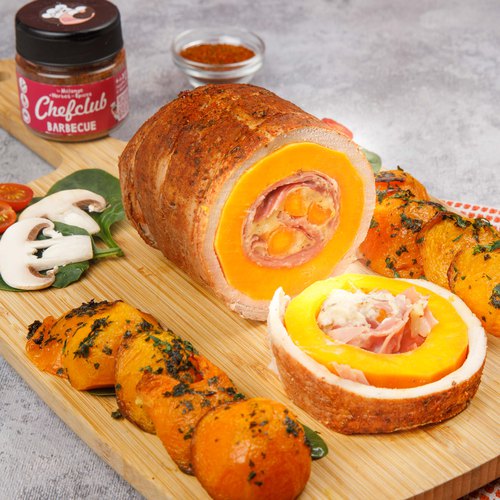 ---
Total time: 1 hour 20 minutes
Prep time: 40 minutes, Cook time: 40 minutes
Ingredients for 4 people
3 1/2 tbsp of butter
Parsley
1 butternut squash
8 slices of smoked ham
3/5 cup of cream of mushroom
1 oz of emmental cheese
1 filet mignon
Chefclub bbq spice mix
Salt & pepper
---
Tools
Cling wrap
Melon baller
Kitchen twine
---
Step 1/4
Rinse the parsley, drain and chop. Add the butter, season with salt and pepper then mix everything to obtain a puree. Place the preparation in cling wrap, form a sausage and set it aside.
Step 2/4
Rinse the butternut squash, cut the end of the butternut squash then form balls using a melon baller and place them in a rectangular dish. Brush the butternut squash balls with parsley butter then bake for 20 minutes at 350°F.
Step 3/4
Cut the empty squash in 2, peel it using a vegetable peeler. Cut the rest of the butternut squash into pieces, spread the slices of smoked ham overlapping them, place the cream of mushroom at the end of the slices of ham, sprinkle with grated emmental cheese. Place the pieces of squash on top then roll up the smoked ham . Place the roll of smoked ham inside the emptied and peeled squash and set it aside.
Step 4/4
Cut the filet mignon delicately widthwise, flatten it using a meat tenderizer, place the stuffed squash at the end, roll up the filet mignon then tie it with kitchen twine to hold it in place. Sprinkle the filet mignon with the Chefclub barbecue spices, place it in a rectangular dish and bake for 20 minutes at 350°F. Place the filet mignon, the butternut squash balls on a plate and enjoy!