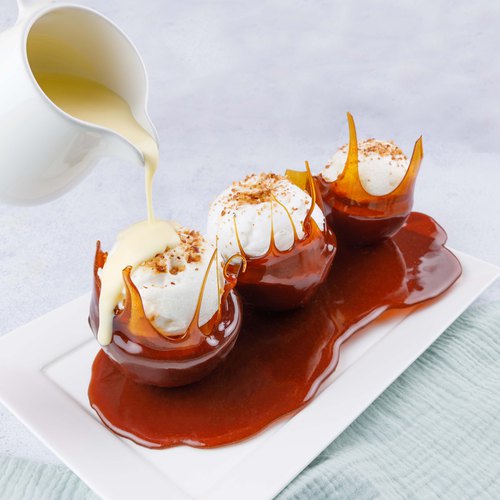 Apple Floating Island
Apple Floating Island! This dessert is paradise 🏝️🍎😍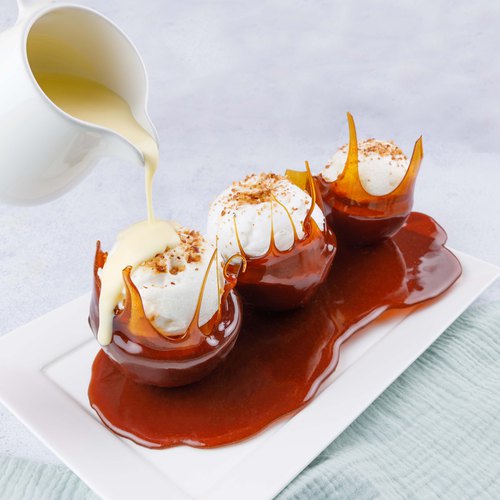 ---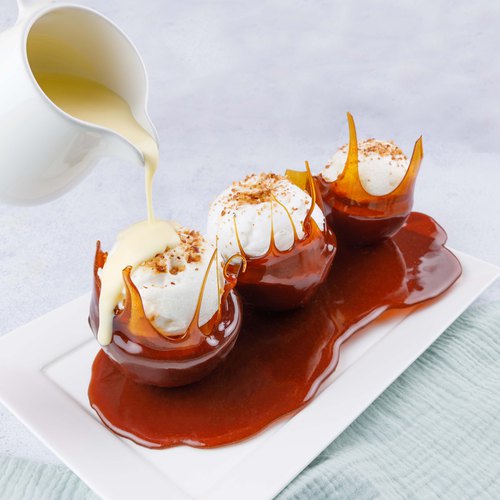 ---
Total time: 45 minutes
Prep time: 45 minutes
Ingredients for 3 people
6 egg whites
3 cups of sugar
1.3 tbsp of calvados
1 cup of custard
2 tbsp of hazelnut praline
4 apples
---
Tools
Tall glasses
Parchement paper
---
Step 1/3
Whisk the egg whites and 7 tablespoons of sugar using a mixer. Take a ladle of egg white, smooth the top and place it for a few minutes in 1 liter of boiling water. Repeat the action to have 3 half-spheres of egg white. Place them on a baking sheet, sprinkle them with praline and set aside.
Step 2/3
Cut the apples in 2 and hollow out the inside of the apples. Poach them with 1 cup of sugar in 1 liter of boiling water to obtain 3 half-spheres. Cut the rest of the apples into pieces and cook them in a pan with 2 tablespoons of sugar. Flambé them with the calvados. Melt the rest of the sugar in a saucepan little by little, stirring to obtain caramel. Place 3 long-stemmed glasses upside down on a rack over a baking sheet lined with parchment paper. Place the half-apples with their hollowed sides on the glasses. Pour the caramel over each half-apple and allow to set.
Step 3/3
Collect the excess caramel on the baking sheet and use it as a base. Place the caramel apple shells on the caramel base. Fill the inside of the apples with the rest of the cooked apples. Place the half-spheres of egg whites on the apples. Place the caramel base with the caramel shells on a plate. Sprinkle the rest of the praline and pour the custard on each floating island. Enjoy!