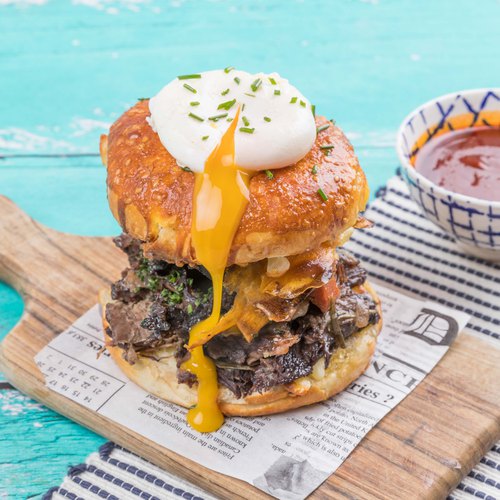 Egg & Rib Stuffed Bagel
Egg & Rib Stuffed Bagel! All smothered in BBQ sauce 😆🥯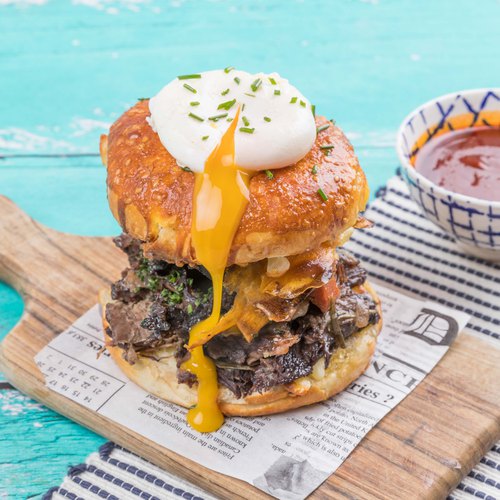 ---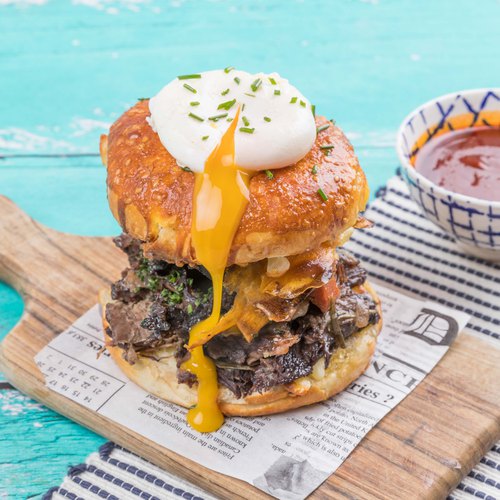 ---
Total time: 4 hours
Cook time: 4 hours
Ingredients for 3 people
4 beef short ribs
Salt & pepper
2 onions, chopped
2 carrots, chopped
2 sprigs of thyme
3 cups of red wine
2 cups of beef broth
3/4 lb of bacon
3 egg
3 bagels
3 string cheese sticks
3 egg yolks
Chives
Ice water
Bbq sauce
---
Tools
Ladles
Cling wrap
Air fryer
---
Step 1/4
Take the bacon and cook it until crispy. Remove from heat and add the short ribs to sear all sides. Set aside. Add onions and carrots until softened. Deglaze with the wine adding salt and pepper to taste then bring to a boil. Add the crispy bacon along with the short rib, thyme and rosemary sprigs. Cook for 10-15 minutes then bring to a low heat and cover for 4 hours.
Step 2/4
Place 3 eggs in ladles and cover with cling wrap. Place in the hot broth to poach. Remove from heat and set aside once cooked.
Step 3/4
Take the bagels and pass them in ice water. Cut them lengthwise and scoop out some of the insides. In the hollow, add BBQ sauce and string cheese. Coat the top of each bagel with an egg yolk. Place into a preheated air fryer at 350°F for 3 minutes.
Step 4/4
Shred the meat from the ribs and place inside the bagels. Add the poached egg on top and sprinkle with chives. Close the bagel and enjoy!