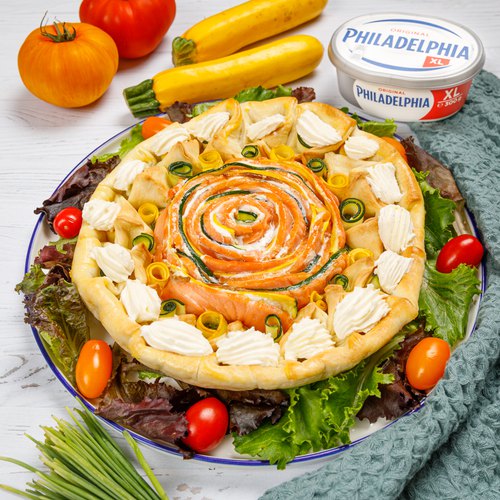 Zany Zucchini Spiral Tarte
Zany Zucchini Spiral Tarte! It' s going to be a swirl in the kitchen today 😋🥒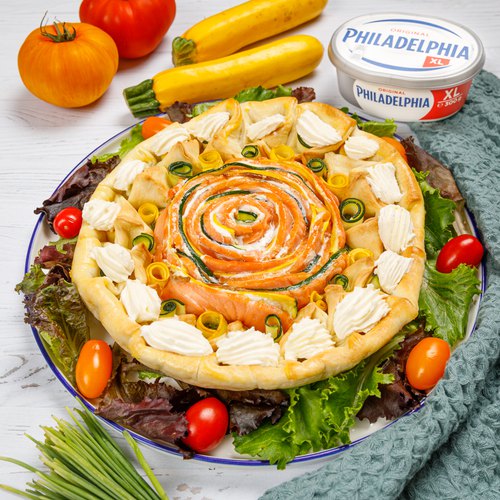 ---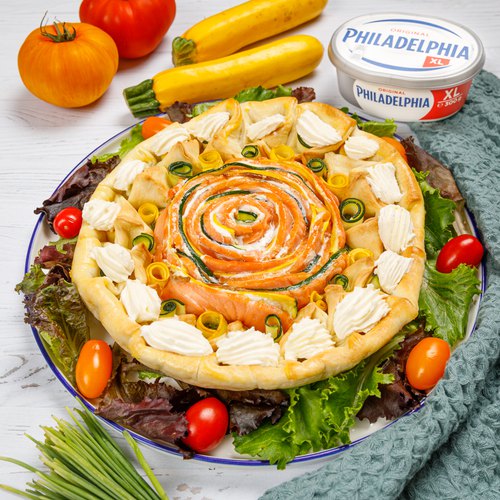 ---
Total time: 55 minutes
Prep time: 30 minutes, Cook time: 25 minutes
Ingredients for 6 people
10 1/2 oz of cream cheese
12 slices of smoked salmon
1 yellow zucchini
1 green zucchini
2 pizza dough
2 tbsp of pesto
---
Tools
parchment paper
Comb
---
Step 1/3
Cut the salmon into strips, arrange them one after the other. Spread the cream cheese over the salmon strip. Cut the zucchini into strips, arrange the strips on the salmon, alternating a strip of green zucchini and a yellow one, then roll the strip up on itself. Form several strips of salmon, cream cheese and zucchini.
Step 2/3
Weld 2 pizza doughs together. Place the pizza dough on parchment paper, place a mold upside down in the center then make regular incisions on the border of the dough (all the way to the mold). Fold the ends inwards, seal the end by pinching the dough, prick the inside of the dough. Bake for 15 minutes at 340°F.
Step 3/3
Place the pesto in the bottom of the tarte. Place the salmon and zucchini spirale in the center. Form mini rolls with the rest of the zucchini then place them in the spaces of the dough. Bake for 10 minutes at 340°F. Spread the cream cheese on a plate. Smooth it then streak the cream with a comb. Place on the tarte and enjoy!