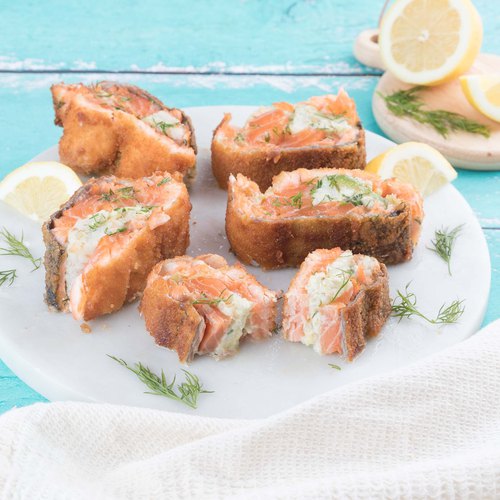 Crunchy Salmon & Avocado Roll
Crunchy Salmon & Avocado Roll! This recipe is soy awesome 😊🍣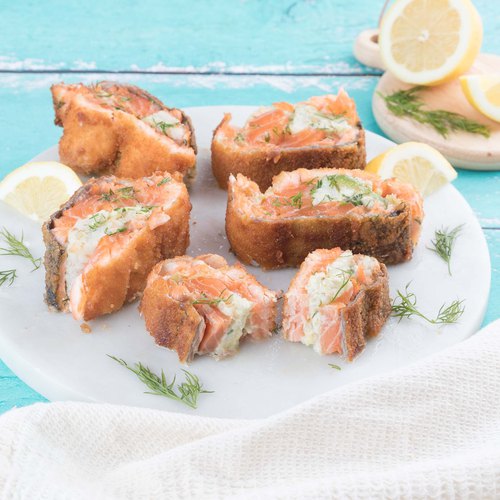 ---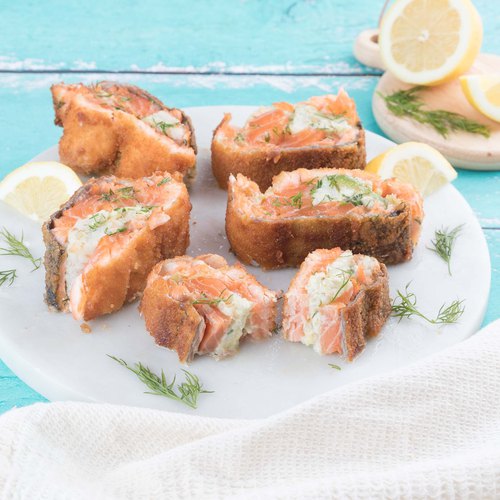 ---
Total time: 1 hour 30 minutes
Prep time: 35 minutes, Cook time: 40 minutes, Rest time: 15 minutes
Ingredients for 5 people
1 salmon fillet
1 tbsp of wasabi powder
2 tbsp of wasabi
1 3/4 cups of sushi rice
1/2 avocado
1 cucumber
5 egg
Flour
Breadcrumbs
Frying oil
7 oz of cream cheese
---
Step 1/4
Rinse the sushi rice 4 times then let soak 1 hour in a pan. Cover in foil. Use the same water it was soaked in and poke a few holes in the foil. Turn the heat up to high. When it begins to steam, turn the heat down to low. Cook for 15 minutes. Remove from heat and let sit for another 15 minutes.
Step 2/4
Slice open a whole salmon filet with skin removed (lengthwise). Coat in wasabi paste and close it. Massage the fish to completely coat it. Mix wasabi powder with cream cheese and spread it on the salmon.
Step 3/4
Place the rice, thin cucumber slices and avocado slices on top. Roll the entire fish tightly on itself.
Step 4/4
In 3 separate bowls place the flour, breadcrumbs and eggs. Place the roll in the flour then the beaten eggs. Cover in breadcrumbs and fry until golden brown. Slice into pieces and enjoy!