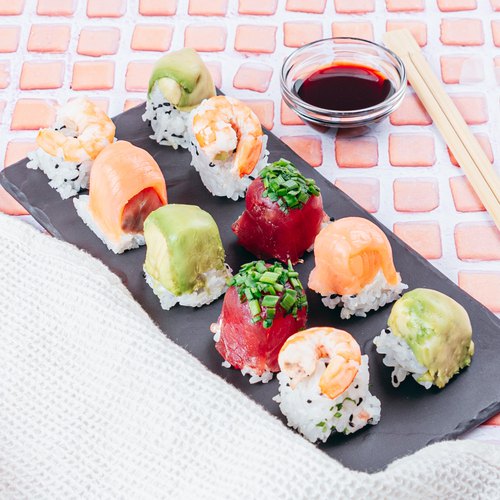 Sushi Cubes
Gourmet made easy! 😋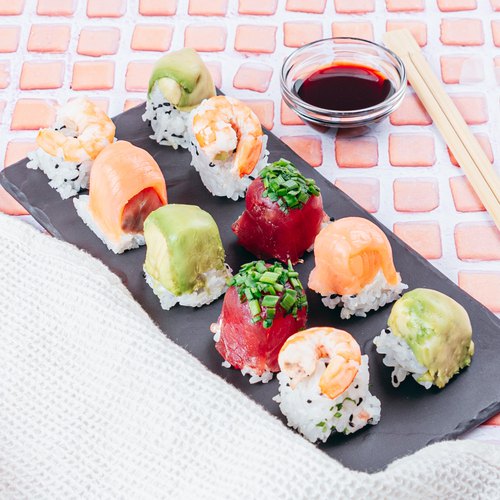 ---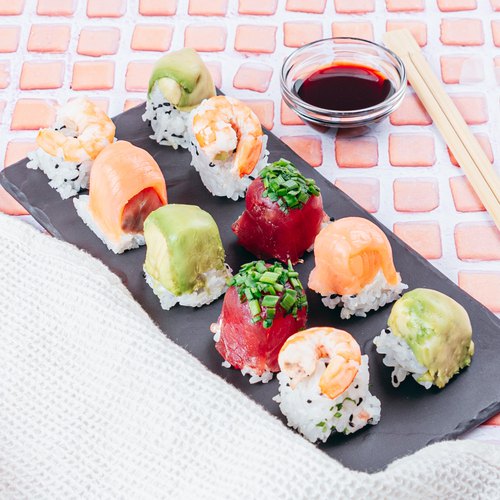 ---
Total time: 50 minutes
Prep time: 20 minutes, Rest time: 30 minutes
Ingredients for 2 people
sushi rice
1/2 an avocado
imitation crab
1 slice of smoked salmon
cream cheese
sushi-grade tuna
4 shrimp
sesame seeds
chives
mayonnaise
soy sauce
3 1/2 tbsp of rice vinegar
---
Tools
Ice cube tray
Cling wrap
---
Step 1/4
Cook the rice in boiling salted water, drain it and then pour in the vinegar and sesame seeds. Mix. Cover the ice cube tray with plastic wrap.
Step 2/4
Peel the avocado and cut thin slices with a vegetable peeler. Cut the imitation crab, the slice of smoked salmon and the tuna into pieces, chop the chives and peel the shrimp.
Step 3/4
Place avocado slices and a piece of imitation crab in 8 compartments. In 8 other compartments, put pieces of smoked salmon and cheese spread. In the next 8 compartments, place chives and pieces of tuna. Garnish the last 8 with shrimp and mayonnaise.
Step 4/4
Finish filling all compartments with rice and set aside 30 minutes in the refrigerator. Unmould on a board and remove the plastic film. Enjoy by dipping the sushi in soy sauce.