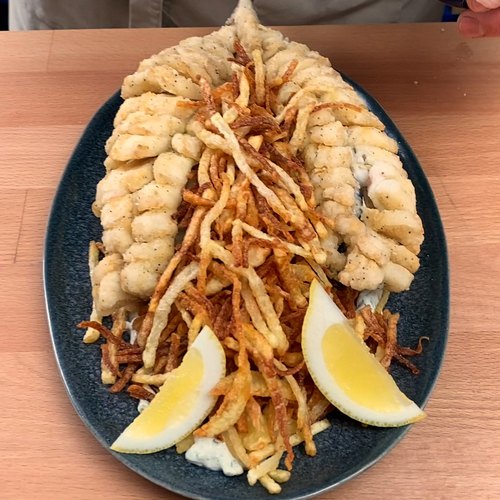 Perfect Fish & Chips Platter
A fintastic twist on a classic combo 🍟🐟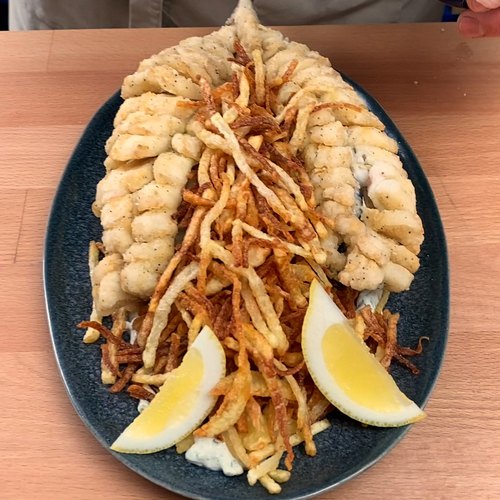 ---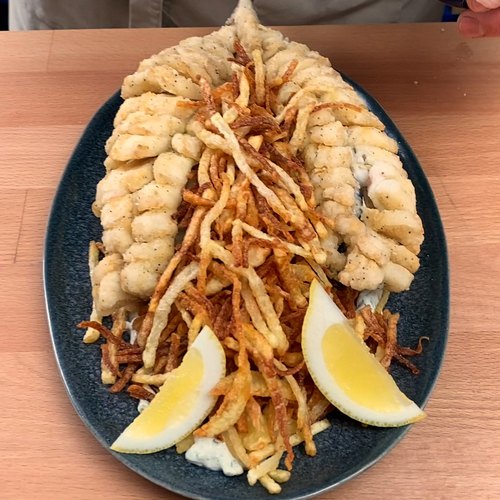 ---
Total time: 1 hour
Prep time: 30 minutes, Cook time: 30 minutes
Ingredients for 4 people
0.9 kg of sea bass
4 potatoes
2 eggs
200 grammes of flour
Frying oil
Green onion
Lemon
Salt & pepper
Tartare sauce
---
Kitchenware
Pair of scissors
---
Step 1/3
Filet both sides of the fish while not completely cutting the filet through the tail portion. With a pair of scissors, snip the backbone away from the filet. Then using a knife, make 4 lengthwise cuts into the flesh of the fish. Then make crosswise cuts along the length of the fish as seen in the video. Repeat on the other side. Place in a bowl of ice water.
Step 2/3
Whisk 2 whole eggs in a bowl and add salt and pepper to the flour. Remove the fish from the water and pat dry with paper towels. Place in a casserole dish and pour the egg wash over the fish. Set the fish into a clean casserole dish and coat completely with flour, ensuring that the flour covers every piece of cut fish. Then use a toothpick to attach the two ends of the fish.
Step 3/3
Drain the cut potatoes and pat dry with paper towels. Next, heat the frying oil to 180°C in a large frying pan. Then slowly submerge the fish into the oil. Place a ladle in the center of the fish to form a slight circle. Fry until light brown, about 3-4 minutes. Very carefully take the fish out of the oil and place on a plate with paper towels. Serve fish on a plate with tartare sauce, fries and lemon. Lightly salt and sprinkle with green onions. Enjoy!