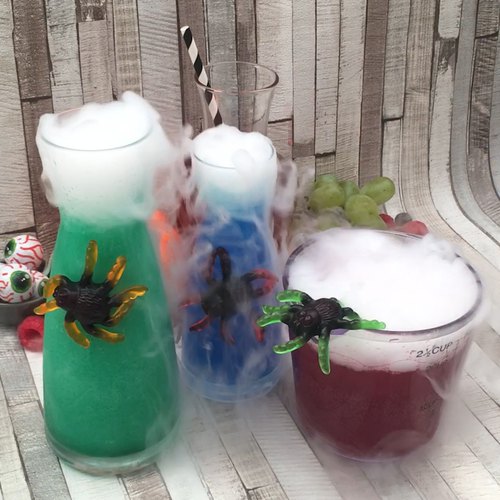 Are you 18 years old or older?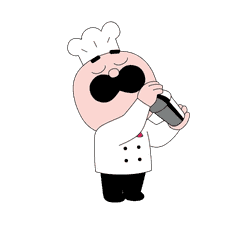 You must have the right to consume alcohol in your country of residence to continue on this site.
Please drink responsibly
6 Cocktails for the Best Halloween Party Ever
Let's 👏 Get 👏 Spooky!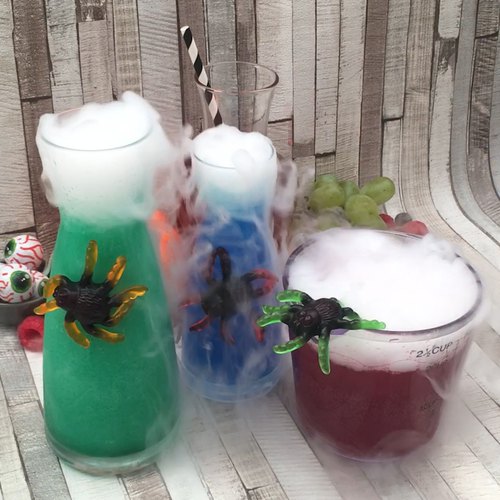 ---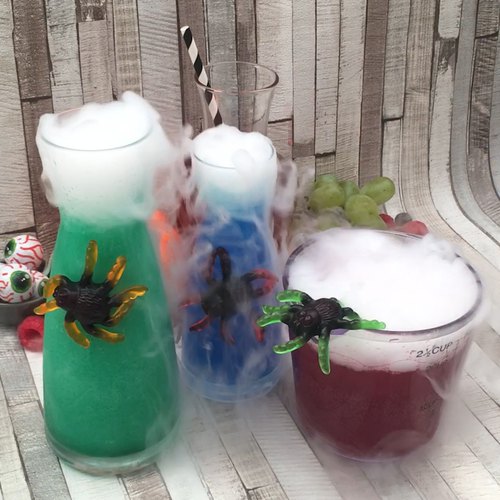 ---
Ingredients for 6 people
pumpkin
beers
grenadine
raspberry coulis
gin
tonic water
mint liquor
baileys ®
gummy brains
ice cream (lime, lemon, and mixed berry)
curaçao
rum
lemon-lime soda
dry ice
gummy spiders
watermelon
apple juice
mint syrup
vokda
mixed berries
blueberries
lychees
orange juice
figs
---
Kitchenware
Shot glasses
Pitchers
Large beaker
Vampire teeth
Plastic spiders
Box cutter
Large mixing bowl
Plastic glove
Ice cube tray
---
Step 1/6
Cut off the top of your pumpkin, then remove the inside. All around the pumpkin cut holes the size of beer bottles then fill each hole with a beer bottle. Carefully place dry ice into the hole. Add a little water on top of the dry ice then replace the top of the pumpkin.
Step 2/6
Fill vampire teeth with grenadine and place in the the freezer until frozen. Place plastic spiders in an ice cube tray and cover with water, place in freezer until frozen. Pour mixed berry coulis on a plate, dip the rim of a win glass in it. Place one spider ice cube in the glass, add gin and tonic water, hang the vampire teeth on the edge of the glass. Enjoy.
Step 3/6
In a shot glass, pour equal parts gin, mint liquor, and baileys. Top with grenadine syrup and add a brain gummy to each glass. Enjoy.
Step 4/6
In 3 different glasses place a scoop of lime, lemon, and berry ice cream. Pour mint liquor over the lime ice cream, Curaçao over the lemon ice cream, and gin over the berry ice cream. Top off all 3 with lemon-lime soda. Carefully add a piece of dry ice to each glass. Decorate with gummy spiders. Enjoy.
Step 5/6
Remove the skin on a watermelon, leaving the rind. Cut in half and paint the rind with mixed berry jelly, carve around the jelly lines to make a brain shape. Place in a large glass punch bowl and cover with apple juice. Add mint syrup and grenadine syrup, then top off with vodka. Add mixed berries to the bowl and serve.
Step 6/6
Place a disposable glove over a glass to keep it open, fill with water. Tie it off and freeze until solid. Fill lychees with a blueberry to make an eye and dip in raspberry coulis. Remove the lid from a transportable cooler and fill with rum, orange juice, tonic water, and grenadine syrup. Add the hand ice cube (after removing the glove) and mixed berries. Add the lychee eye balls, halved figs, and spider ice cubes. Add a toy hand if you have one. Enjoy!
Similar recipes from Chefclub
-
Our other recipes