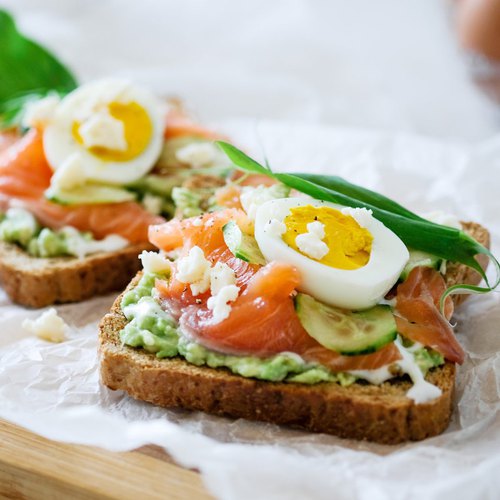 Hard boiled egg avocado toast
The trendy brunch toast!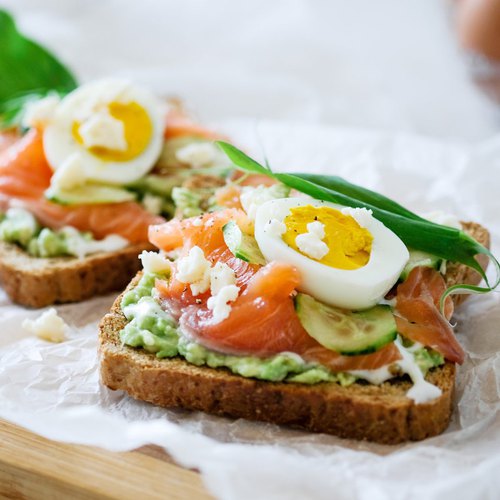 How can you not love this breakfast trend? Garnished with hard-boiled eggs, this easy toast recipe loaded with avocado is going to be the star of your next brunch!
Total time: 25 minutes
Prep time: 20 minutes, Cook time: 5 minutes
Ingredients for 4 people
2 eggs
4 slices farmhouse bread
1 tbsp of olive oil
1/2 cucumber
2 ripe avocados
1 chopped dill
2 tbsp of lime juice
2 tbsp of mayonnaise
1 pincée of salt
1 pincée of pepper
1 tbsp of tabasco sauce
---
Tools
Fork
---
Step 1/4
Heat a pot of water and add in the eggs once the water starts boiling. Cook 9 minutes. Let cool, then remove shells.
Step 2/4
Place an oven rack in the top third of your oven, then turn on broil. Place bread slices on a baking sheet. Brush the bread with olive oil, then season with salt. Bake for 5 min, turning the bread over halfway through baking. Let cool.
Step 3/4
Wash the cucumber and slice into very thin rounds. Peel the avocados and scoop out the flesh. In one bowl, combine cucumber and dill. In a second bowl, mash the avocados and lime juice with fork, then season with salt and pepper. In a third bowl, combine the mayonnaise, 1 tbsp water and Tabasco. Cut the eggs into quarters.
Step 4/4
Garnish the toasted bread slices with the avocado purée. Arrange the egg quarters and cucumber slices nicely on top. Season with salt and pepper. Drizzle with Tabasco & mayonnaise sauce. Enjoy!
Chefclub's Tips & Hacks
Looking to try another avocado toast variation? Try garnishing with slices of smoked salmon, paprika, and sunflower seeds!