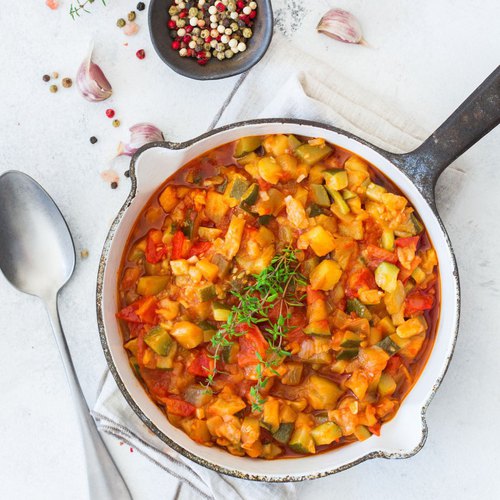 Easy ratatouille
A simple recipe perfect for pairing with rice, roasted potatoes, or meat!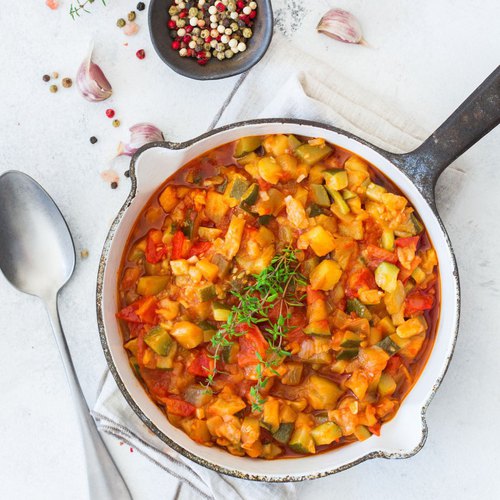 Ratatoutille is much more than a blockbuster film, it is the name of a traditional French dish of stewed vegetables widely consumed in France.
Total time: 1 hour 15 minutes
Prep time: 15 minutes, Cook time: 1 hour
Ingredients for 6 people
2 zucchini
1 pincée of pepper
1 eggplant
3 tomatoes
2 cloves garlic
1 onion
1 bouquet garni
1 goutte of olive oil
1 pincée of salt
2 bell peppers
---
Step 1/4
Dice the vegetables: zucchini, bell peppers, eggplant, and tomatoes. Slice the onion.
Step 2/4
Heat oil in skillet. Brown peppers, eggplant, and zucchini for 5 minutes.
Step 3/4
Add all the colored vegetables to the pan with the tomatoes and onion. Lower the heat and stir for a perfect ratatouille. Add the bouquet garni, salt, and pepper (what's a bouquet garni? You can buy them in supermarkets, and they contain bay leaf, thyme, and rosemary!). Cover and leave on low heat for 30 minutes while watching.
Step 4/4
Crush the garlic cloves and add them to the pan. Cook with the pan covered for 10 minutes.
Chefclub's Tips & Hacks
You can adapt this traditional recipe by adding the preparation to your quiche and savory pie bases