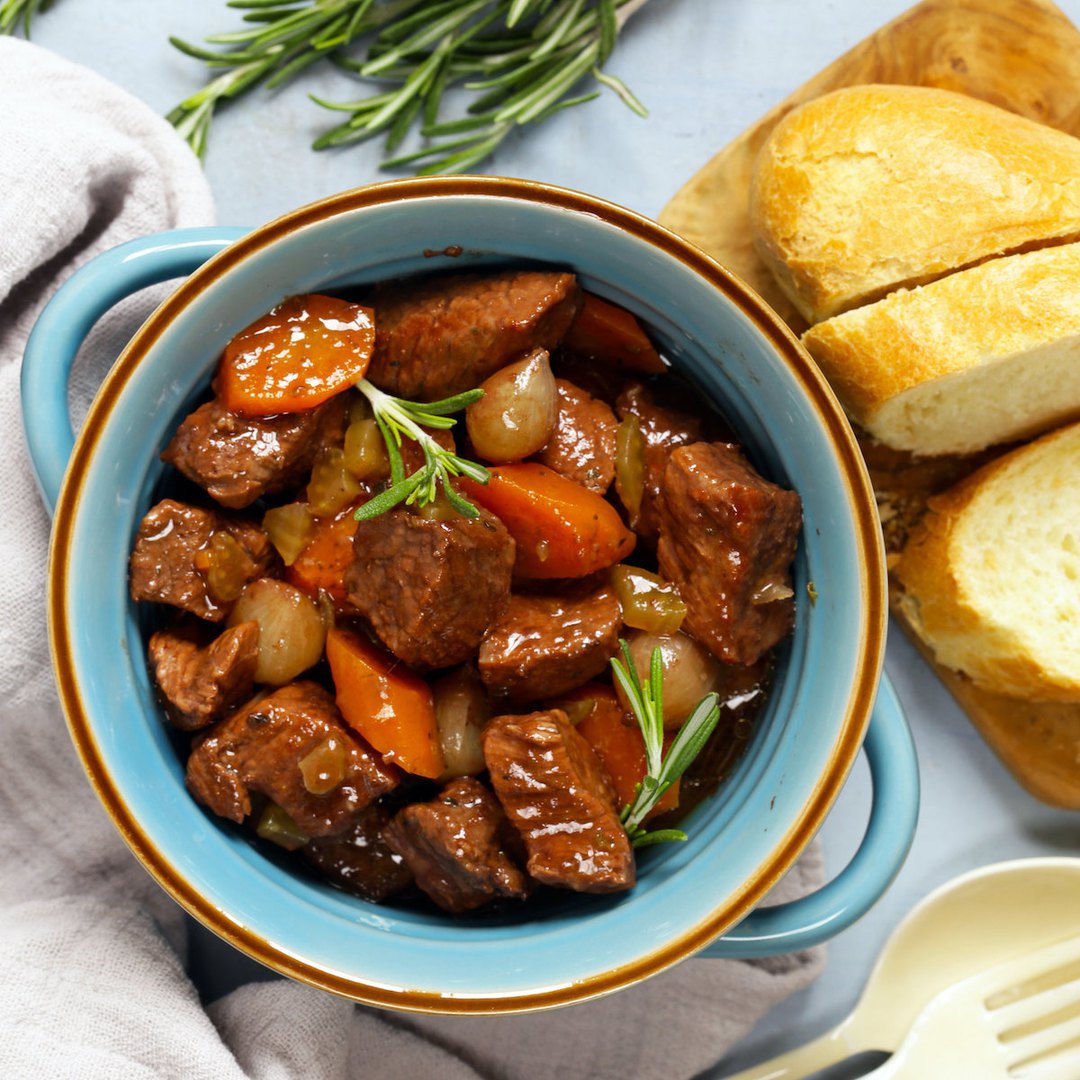 Beef bourguignon
For a family supper!
"With red wine sauce (from Burgundy, of course!). This beef pot roast recipe reminds us why traditional cooking is so good!"
Total time: 230 minutes
Prep time: 20 minutes, Cook time: 210 minutes
Ingredients for 6 people
2 beef stock cubes
3.3 kg brisket or chuck steak
10 scallions
2 carrots
2 cloves of garlic
0.25 cup butter
8 oz bacon
0.5 cup flour
2 cups red wine (Burgundy)
1 botte bouquet garni
2.65 cups button mushrooms
1 pincée Salt
1 pincée Pepper
---
Step 1/4
Prepare the broth by diluting the beef stock cubes in 2 cups boiling water. Cut the beef into large cubes about 1 ½ inches in width. Peel the scallions. Peel and cut the carrots into slices at least 2 mm thick. Peel the garlic cloves and crush them.
Step 2/4
Melt the butter in the Dutch oven. Add the scallions and bacon into the dish and brown, stirring constantly. Once they are well colored, remove the scallions and bacon. Set aside.
Step 3/4
Place the beef in the Dutch oven and cook for a few minutes over high heat. Add the carrots and cook for another 5 minutes. When the meat is well colored, add the flour and stir. When the flour turns golden, pour in the broth. Scrape the meat juices from the bottom of the pan. Add the reserved bacon and onions to the mixture, then pour in the red wine. Season with salt and pepper, then add the bouquet garni and crushed garlic to the pan. Bring to a boil. Cover, then simmer for 3 hours.
Step 4/4
Cut the mushrooms finely, then plunge them into the casserole. Let cook for 30 minutes. At the end of the cooking time, remove the bouquet garni. If the sauce is too thick, add a little water.
Chefclub's Tips & Hacks
Serve the beef bourguignon hot with mashed potatoes or fresh pasta.