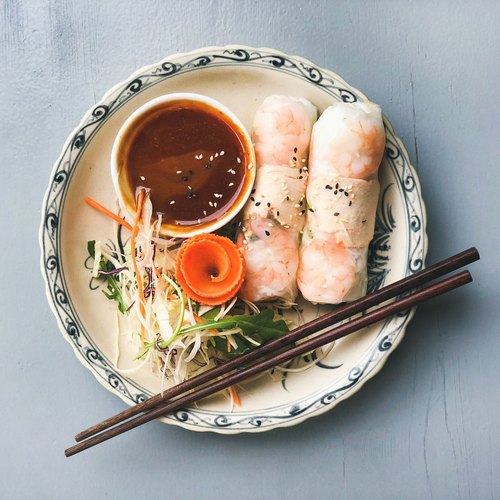 Shrimp spring rolls
For a light vietnamese dinner!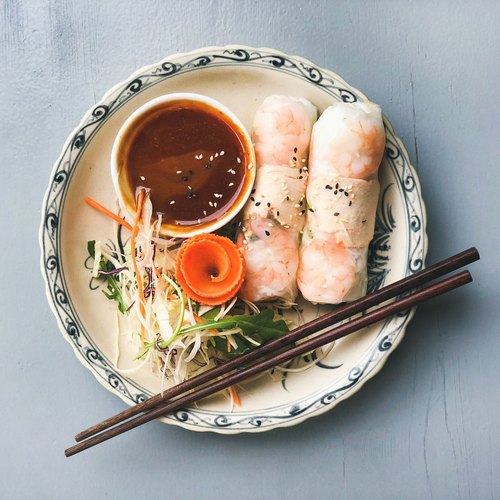 Having a hard time finding rice paper? Don't worry, this recipe teaches you all about the art of Asian spring rolls!
Total time: 18 minutes
Prep time: 15 minutes, Cook time: 3 minutes
Ingredients for 4 people
1 boîte of rice noodles
4 rice paper
4 iceberg lettuce leaves
4 handfuls beansprouts (mung beans)
1 carrot
4 mint leaves
4 shrimps
1 chili pepper
1 tsp of anchovy sauce
1 tsp of sugar
1/2 lime
---
Step 1/5
Cook the rice noodles by adding them to a pot of boiling water, then continue cooking off the heat for 3 to 4 minutes. Once cooked, plunge into a bowl of cold water to stop the cooking. Drain.
Step 2/5
Soak a sheet of rice paper in a bowl of warm water to soften. Place the sheet of rice paper on a flat surface covered with a clean cloth.
Step 3/5
Place a lettuce leaf, a small handful of rice noodles, fresh bean sprouts, 2 carrot ribbons cut with a vegetable peeler, and a mint leaf on the sheet of rice paper. Fold over the bottom of the rice sheet and both ends, then start to roll up the filling tightly. Before finishing, place a shrimp on top of the rice paper and finish rolling. Repeat the process for the remaining 3 spring rolls.
Step 4/5
Prepare the sauce. Chop the chili pepper very finely. In warm water, mix the Anchovy sauce, lime, sugar, and chili pepper.
Step 5/5
Dip the spring rolls in the sauce and enjoy!
Chefclub's Tips & Hacks
For a goi cuốn filling like in Vietnam, combine ground pork, shrimp, omelet strips, rice noodles, and veggies!