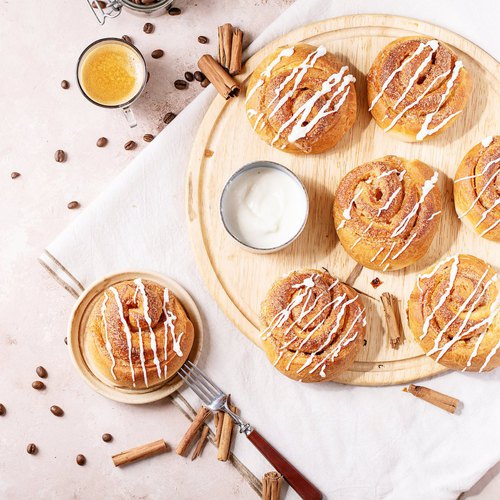 The cinnamon rolls
Made for sunday mornings!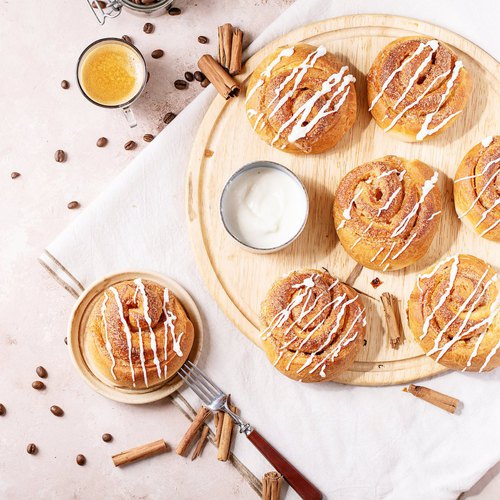 There's nothing quite like warm homemade cinnamon rolls on a Sunday morning! A delicious and sweet pastry enjoyed by many, homemade cinnamon rolls are actually easy to make and oh so yummy! Your family will love this easy recipe.
Total time: 3 hours 50 minutes
Prep time: 30 minutes, Cook time: 20 minutes, Rest time: 3 hours
Ingredients for 6 people
4 cups of flour
0.3 cup of sugar
0.7 cup of butter
1 cup of milk
1 1/4 tsp of baking powder
1 egg
1 pincée of salt
1/4 cup of brown sugar
3 tsp of cinnamon
---
Step 1/5
Add flour, yeast, milk, salt, sugar, and egg to a bowl, keeping the salt as far away from the yeast as possible. Mix for 10 minutes in a stand mixer or 20 minutes by hand. Add in 7 tbsp butter and mix for another 10 minutes in a stand mixer or 20 minutes by hand. Let the dough rest at room temperature for at least 2 hours.
Step 2/5
While the dough is rising, mix the remaining butter with the cinnamon and sugar.
Step 3/5
Roll out dough into a rectangle on a clean, floured work surface. Spread butter, sugar and cinnamon mixture over dough.
Step 4/5
Roll the dough into one long roll. Then cut the roll into slices 1 to 2 cm thick. Place the slices on a baking sheet lined with parchment paper and let rest for 1 hour.
Step 5/5
Bake at 350 °F for 20 to 25 minutes. Wait until the buns are cold before adding the glaze.
Chefclub's Tips & Hacks
What about the glaze? Mix powdered sugar with lemon juice and use a fork to drizzle the shiny mixture over the cinnamon rolls. Alternatively, prepare a cream cheese frosting.