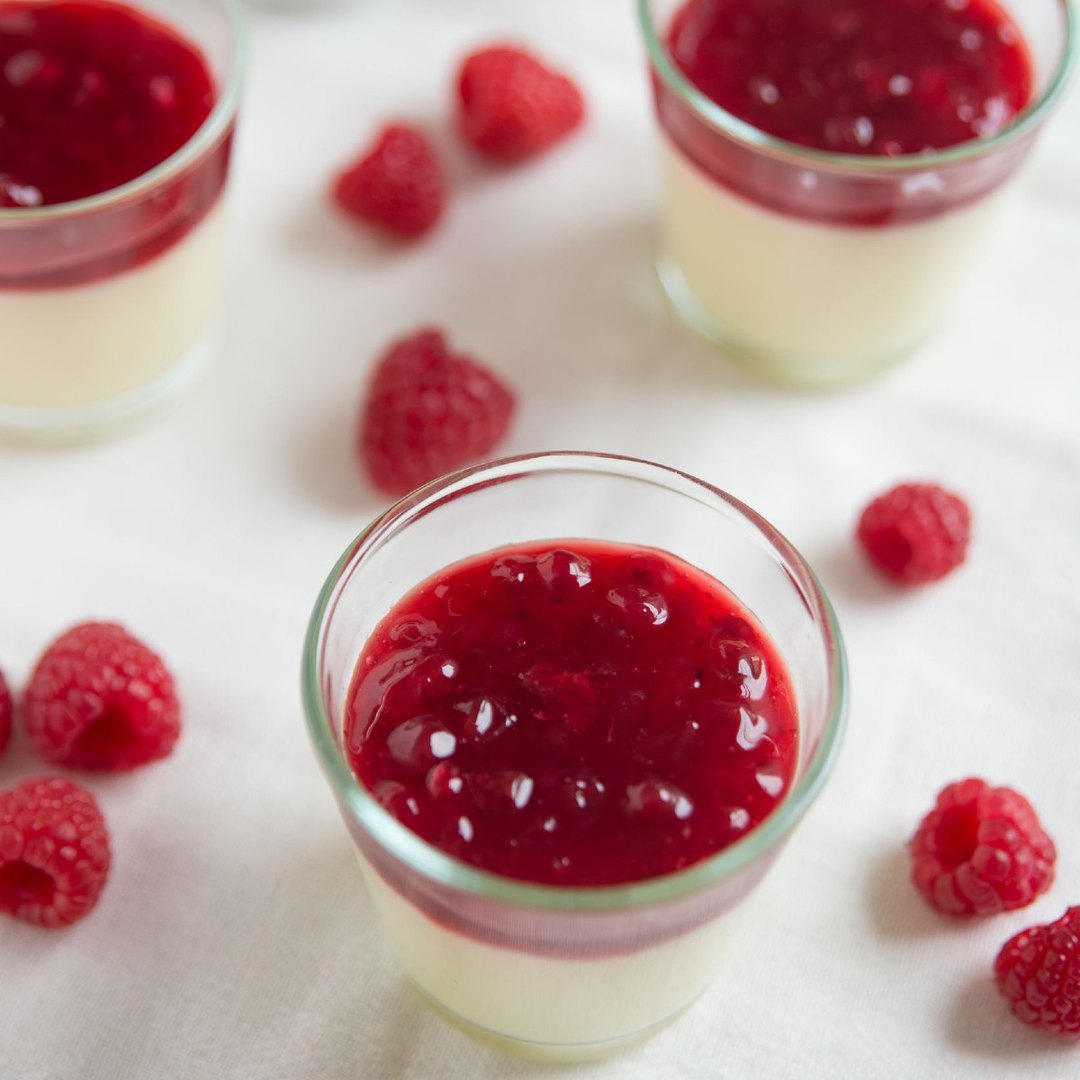 Easy panna cotta recipe
For a dessert trembling with deliciousness!
"Wanting to try classic dessert shooters, with a twist? Presented as a family-style dish to share, this raspberry panna cotta recipe is a unique take on this classic Italian dessert."
Total time: 20 minutes
Prep time: 15 minutes, Cook time: 5 minutes
Ingredients for 4 people
4 sheets gelatin
2.5 cups heavy cream
4.75 tbsp sugar
0.25 tsp vanilla powder or extract
3 gouttes almond extract
1.25 cups raspberries
0.25 cup powdered sugar
4 Fresh mint leaves
---
Step 1/4
Soften gelatin sheets in a bowl of cold water.
Step 2/4
Place heavy cream, sugar, vanilla, and almond extract in a saucepan. Bring to a slow boil, stirring constantly.
Step 3/4
Drain gelatin leaves, then stir into cream. Stir until gelatin has completely melted. Pour into a rectangular dish and set aside in the refrigerator.
Step 4/4
Remove the panna cotta from the dish and place it on a serving plate. Cut into 4 nice pieces and garnish with fresh raspberries, powdered sugar, and mint leaves.
Chefclub's Tips & Hacks
Instead of using gelatin, try agar-agar, a substance derived from red algae with a high capacity to gel. Add it directly to the pan with the other ingredients, up to 1 tsp, and keep it boiling for 30 seconds. Enjoy this panna cotta with diced mango or pineapple coulis!