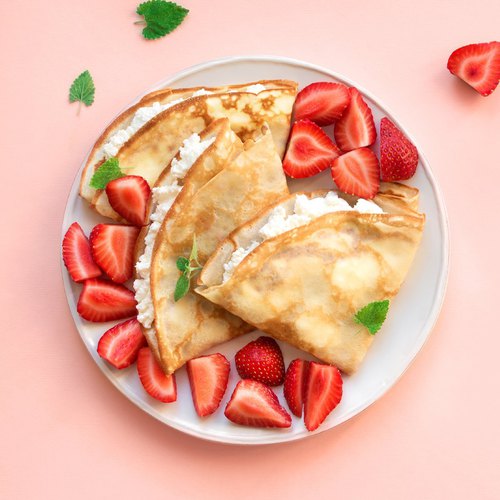 No Ache Crepes
What will you use as a filling?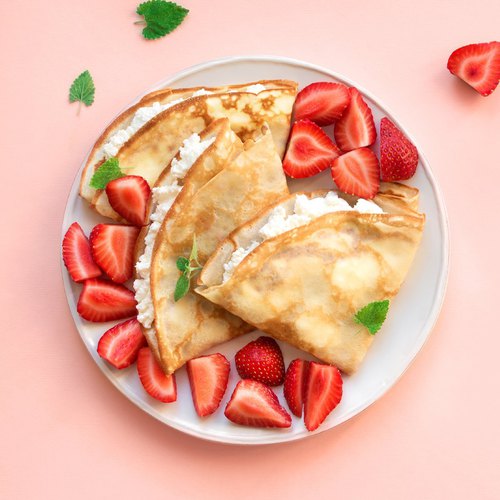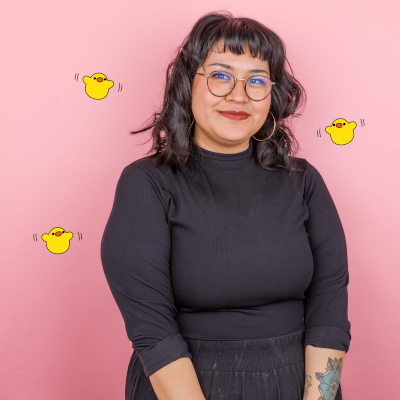 "This no-fail crepe recipe is so versatile, and you can add any sort of topping you'd like such as chocolate spread, caramel, fruit, whipped cream, condensed milk, or cheese!"
Total time: 40 minutes
Prep time: 10 minutes, Cook time: 15 minutes, Rest time: 15 minutes
Ingredients for 8 people
2 cups of flour
3 1/2 tbsp of butter, melted
1 tbsp of sugar
1 pinch of salt
3 egg
2 cups of milk
---
Tools
Crepe pan
Blender
Spatula
---
Step 1/6
2 cups of flour - 1 tbsp of sugar - 1 pinch of salt - 3 egg - 2 cups of milk
Place everything but the butter in a bowl and whisk until completely smooth, or place the ingredients in a blender and blend until completely smooth.
Step 2/6
3 1/2 tbsp of butter, melted
Melt the butter in the microwave and then add to the batter and whisk until completely combined.
Step 3/6
Cover the batter and allow it to rest at least 10 minutes but ideally 30 minutes.
Step 4/6
Heat up a crepe pan or a non-stick pan over medium heat. Once heated, add some butter or cooking spray and scoop swirl some batter to create a thin layer.
Step 5/6
Cook the crepe for about 2-4 minutes until the crepe changes in color and then flip to cook the other side for an additional minute.
Step 6/6
Once your crepes are ready, you can assemble them with whatever spread, fruit, or garnish you like. Enjoy!
Chefclub's Tips & Hacks
Crepes are possible with every day pantry items. For a simple yet absolutely delicious filling, try butter sprinkled with granulated sugar and cinnamon. It's a Parisian classic!