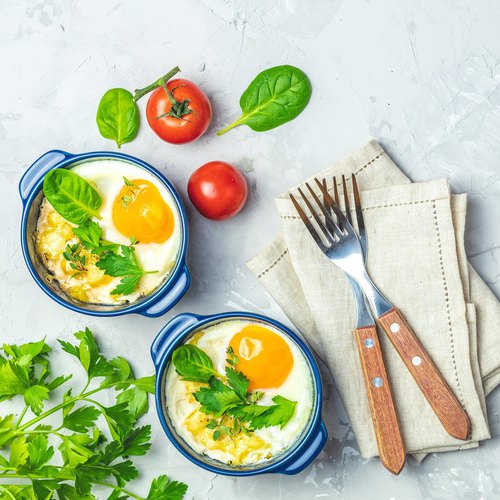 Shirred egg with bacon
That is how a tasty morning starts!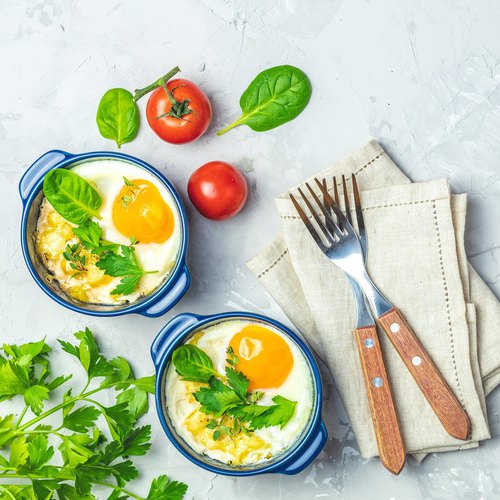 Discover Bacon and Egg the french style!
Total time: 1 hour 10 minutes
Prep time: 30 minutes, Cook time: 10 minutes, Rest time: 30 minutes
Ingredients for 4 people
3 shallots
1 bunch chives
8 oz of bacon
2 tsp of butter
1/2 cup of crème fraîche or sour cream
3 tsp of curry powder
4 eggs
3/5 cup of grated cheese
---
Tools
Ramequins
---
Step 1/4
Peel the shallots. Finely chop the shallots and chives. Dice the bacon.
Step 2/4
Melt the butter in a frying pan, then cook the shallots for a few minutes until translucent.
Step 3/4
In a bowl, combine the chopped chives, crème fraîche, and curry powder.
Step 4/4
Place the shallots and bacon at the bottom of 4 small ramekins. Add 2 tablespoons of cream to each ramekin, then crack the egg into each one. Sprinkle the tops with grated cheese, then place the ramekins in a baking dish filled halfway up with warm water. Bake for 10 minutes at 410 °F.
Chefclub's Tips & Hacks
Serve immediately.