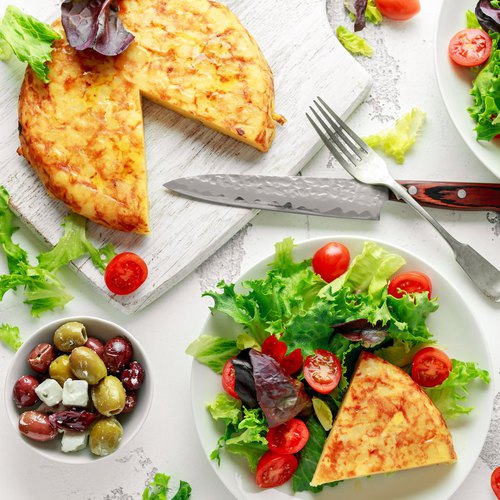 Spanish tortillas
There's nothing like tapas in spain!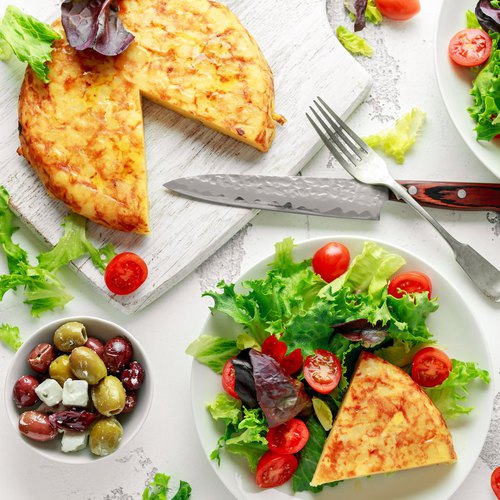 Easy Spanish lesson: the word "tortilla" means omelette in Spain. The traditional tortilla in Spain is a "tortilla de patatas" (tortilla with potatoes), not to be confused with the traditional Mexican corn tortillas that we are familiar with in the US. The recipe for Spanish tortillas is just as simple as its name: only 3 ingredients and you've got yourself a meal!
Total time: 35 minutes
Prep time: 10 minutes, Cook time: 25 minutes
Ingredients for 4 people
1 3/4 lb of potatoes
1 onion
8 eggs
---
Step 1/4
Peel and thinly slice the potatoes (you can use a mandolin). Cook in a pot of boiling water for 15 minutes.
Step 2/4
Peel and finely chop onion.
Step 3/4
Beat eggs separately, then add potatoes and onion. Season with salt and pepper and mix.
Step 4/4
Cook over low heat in a skillet for 5 minutes. Turn the tortilla over with the help of a plate or dish larger than the skillet. Cook for another 5 minutes. Bravo, one of the best Spanish tapas is ready to be shared.
Chefclub's Tips & Hacks
You can also try cooking our Mexican tortilla recipe, which is completely different, but 100% delicious! Check out our website, we should be able to help you!