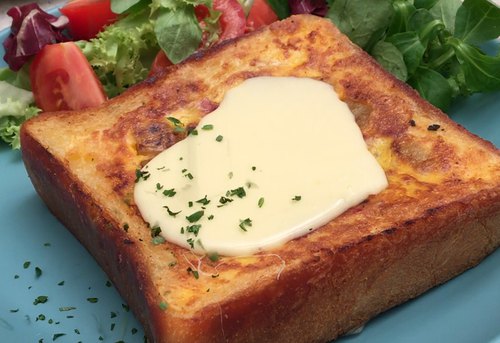 Omelette Grilled Cheese!
The best cheese in the world for grilled cheese is raclette. Period.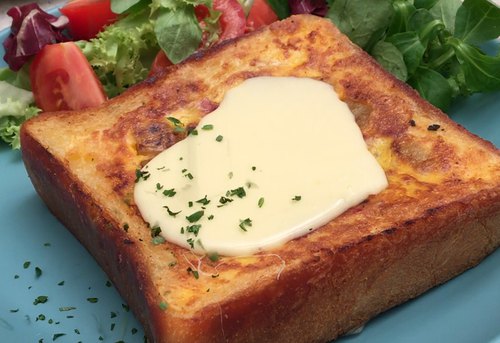 ---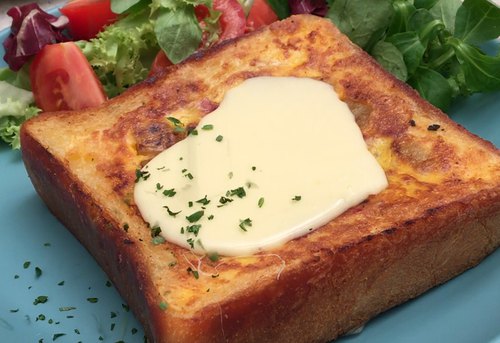 ---
Ingredients for 4 people
1 loaf sandwich bread, not sliced (or 4 slices of Texas toast)
4 potatoes
7 oz of bacon, diced
1 onion
4 eggs
16 slices of raclette cheese
olive oil
parsley
---
Tools
Spatula
---
Step 1/3
Cut the bread into 4 thick slices, then cut the center out of each slice, keeping the crust whole. Set aside the interior. Dice the potatoes and sauté them in a bit of oil with the bacon and the minced onion.
Step 2/3
Once the potatoes are golden, form 4 squares in the pan with the mixture, then place a crust of bread around each square. Sprinkle chopped parsley, then pour 1 beaten egg into the center of each bread crust.
Step 3/3
Cook for 3 minutes, then add 3 slices of raclette cheese to each bread. Place the interior of the bread on top of the cheese, then flip carefully using a spatula. Cook for 2 to 3 additional minutes. Melt the rest of the cheese separately, pour it over the toasts, then enjoy hot.