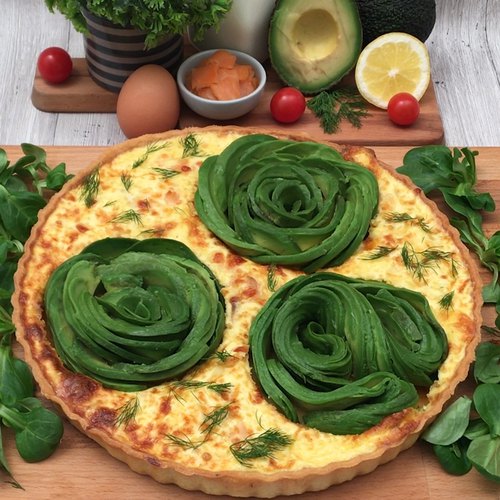 Avocado Flowers with a Side of Salmon
A surefire way to win brunch.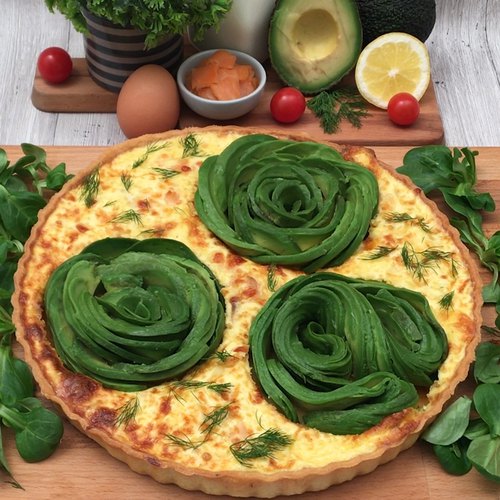 ---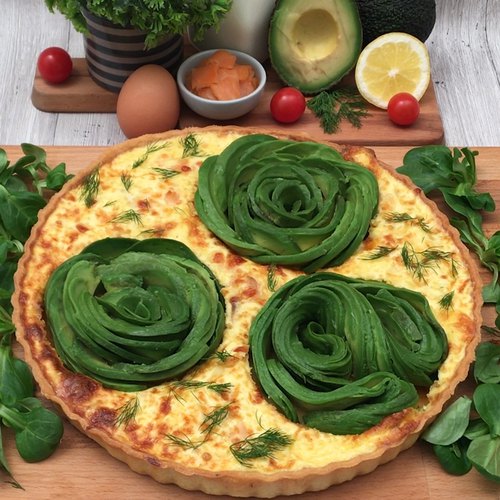 ---
Ingredients for 4 people
3 avocado
1 pie dough
7 oz of smoked salmon
1/4 cup of mozzarella, grated
3 eggs
1 1/4 cups of heavy cream
dill
salt & pepper
---
Tools
Pie dish
Bowls
---
Step 1/4
Peel the avocados and cut them in half. Remove the pits and slice each half into thin strips. Slide the slices of one half together to form a half-circle with the avocado. In the same way, slide the slices in the other half to form a long line and roll this line on itself to form a flower. Wrap the semi-circle around this flower to complete it.
Step 2/4
Slide the slices in the same way from another half to form an S by bending both ends inwards. Do the same with the other half and stick it to the first.
Step 3/4
Slide the slices from another other half in the same way to make a long line and then fold it in half to form a drop. Surround this drop with the strips of the last half.
Step 4/4
Place the pie dough in the pie dish, prick it with a fork and place the 3 bowls upside down on top. Arrange the smoked salmon cut into pieces around the bowls and sprinkle them with grated mozzarella cheese. Mix the eggs, heavy cream, salt, and pepper and pour the mixture into the pie. Bake for 25 minutes at 350 °F. Remove the bowls, sprinkle with dill, and place the avocado flowers in the holes. Cut into slices and enjoy!
Similar recipes from Chefclub
-
Our other recipes