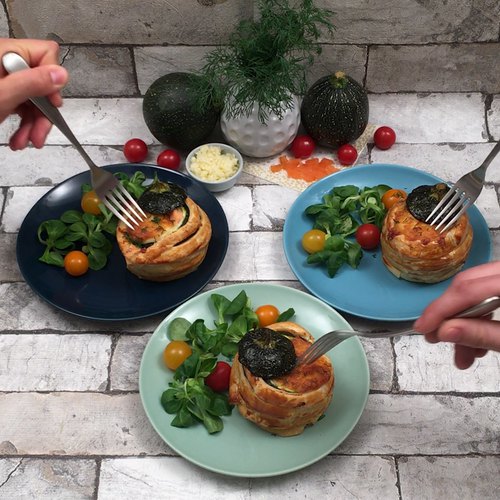 Zucchini grenades
An explosion of flavor in your mouth! 🤔🐟💥🤪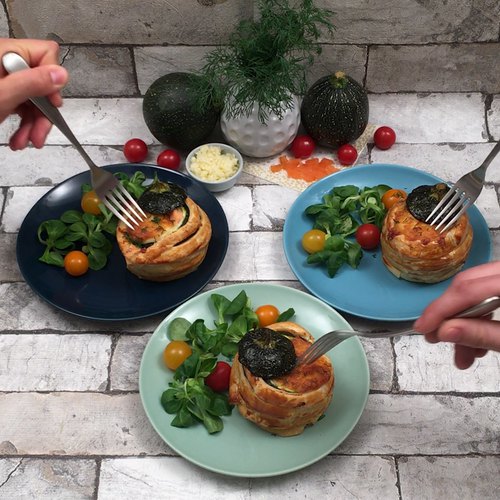 ---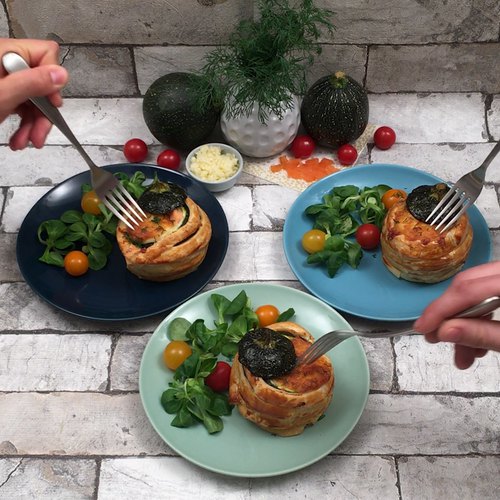 ---
Ingredients for 3 people
3 round zucchini
1 cup of ricotta cheese
2 fillets salmon, cubed
1 puff pastry
1 block mozzarella cheese
1 egg yolk
dill
salt & pepper
---
Tools
Baking tray
Parchment paper
---
Step 1/3
Cut the tops off of the zucchini, hollow them out, and chop the removed flesh. Combine the ricotta, chopped zucchini, salmon, dill, salt, and pepper. Fill the hollowed-out zucchini with this mixture.
Step 2/3
Cut the puff pastry into 1/2 inch wide strips and wrap them around the zucchini. Cut 4 mozzarella sticks from the block and plant one in each zucchini. Brush the pastry with egg yolk.
Step 3/3
Arrange the zucchini and their tops on a parchment paper lined baking tray and bake for 25 minutes at 350 °F. Remove from the oven, sprinkle with dill, and serve.