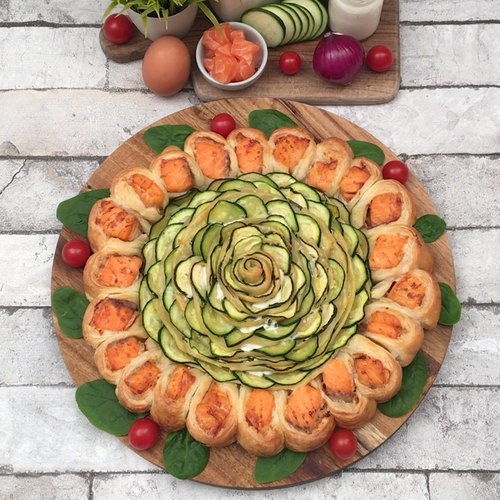 Salmon and zucchini pie
Eat with your eyes!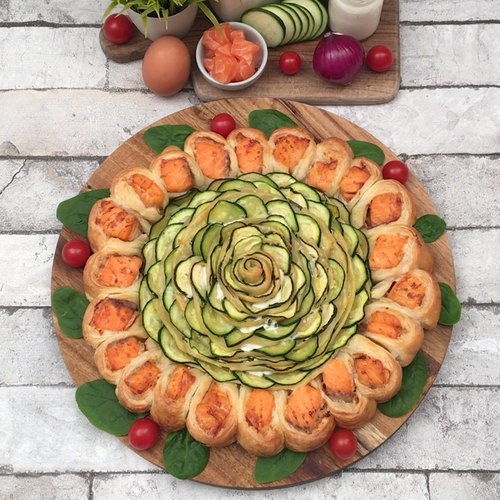 ---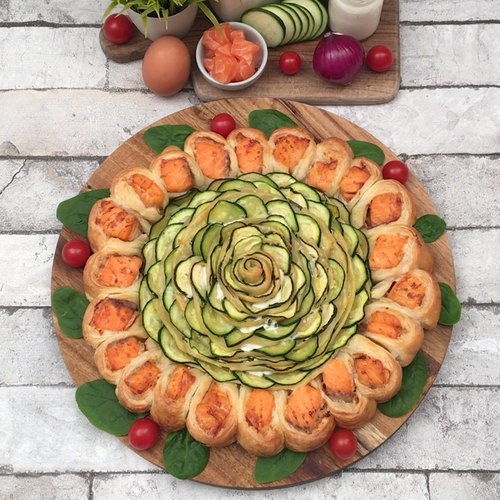 ---
Total time: 30 minutes
Prep time: 30 minutes
Ingredients for 4 people
2 puff pastry
4 salmon fillets
4 oz of cream cheese
chives
salt & pepper
tongs
---
Step 1/4
Prick 1 puff pastry with a fork and place the salmon fillets on top so that they form a circle. Brush the pastry around the salmon circle with water and then fold it over the pieces.
Step 2/4
Cut the dough-covered pieces into 1-inch wide pieces and turn them all 90° so the salmon is visible.
Step 3/4
Mix the cream cheese with the chopped chives, salt, and pepper. Then spread it over the remaining dough pricked with a fork. Cut the second puff pastry dough into 6 strips of the same width. Cut the zucchinis into thin strips and arrange them lengthwise on the dough strips, slightly overlapping them.
Step 4/4
Roll a first strip on itself, zucchini side up, and then wrap a second strip around it. Repeat with all the strips until you have a large zucchini flower. Place the flower in the salmon tart and bake for 30-40 minutes at 400 °F, until golden brown. Remove from the oven, cut into slices and eat.