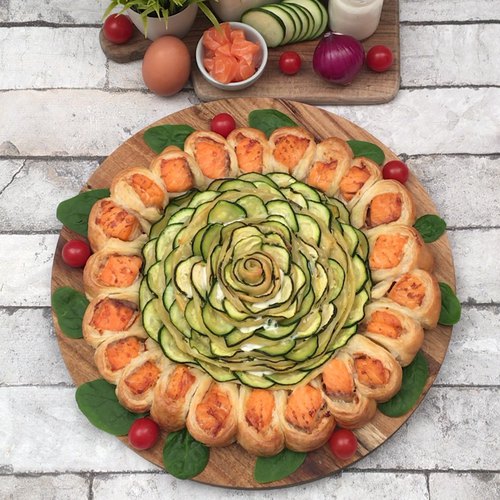 Recipe
Salmon and Zucchini Pie
Eat with your eyes! 👀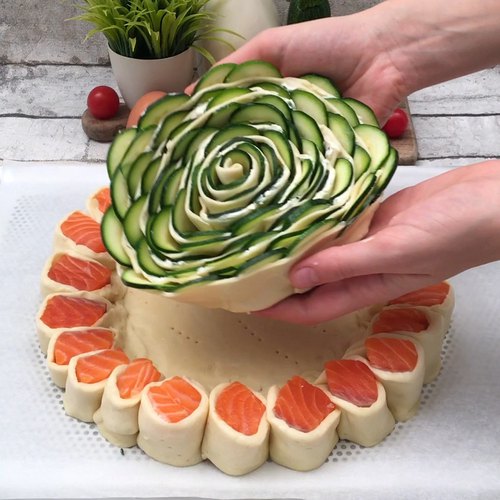 Prick 1 puff pastry with a fork and place the salmon fillets on top so that they form a circle. Brush the pastry around the salmon circle with water and then fold it over the pieces.

Cut the dough-covered pieces into 1-inch wide pieces and turn them all 90° so the salmon is visible.

Mix the cream cheese with the chopped chives, salt, and pepper. Then spread it over the remaining dough pricked with a fork. Cut the second puff pastry dough into 6 strips of the same width. Cut the zucchinis into thin strips and arrange them lengthwise on the dough strips, slightly overlapping them.

Roll a first strip on itself, zucchini side up, and then wrap a second strip around it. Repeat with all the strips until you have a large zucchini flower. Place the flower in the salmon tart and bake for 25 minutes at 350 °F. Remove from the oven, cut into slices and eat.
It's ready!
SIGN UP
FOR FREE
TO SEE THE RECIPE
Discover the Chefclub cookbooks
More everyday recipes
The Everyday Boxed Set contains: Under 10 Minutes, the perfect recipes to make when you don't have time; How to Cook Leftovers, make use of what you have on hand and save money in the meantime; Family Meals, the recipes you'll turn to when you have surprise guests.
DISCOVER THE BOOK