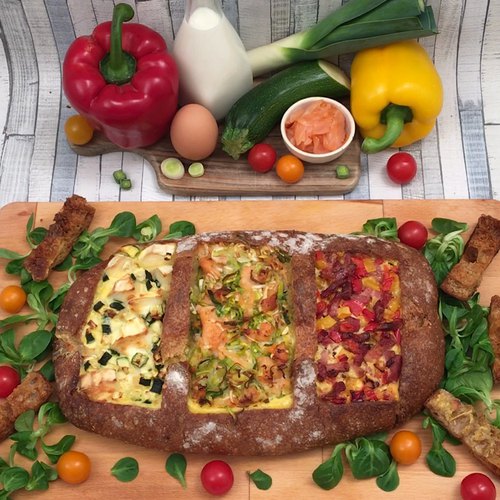 3-Flavor Bread Boat
Why settle for less.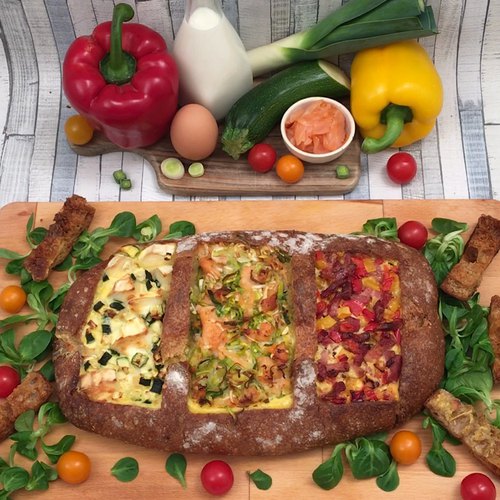 ---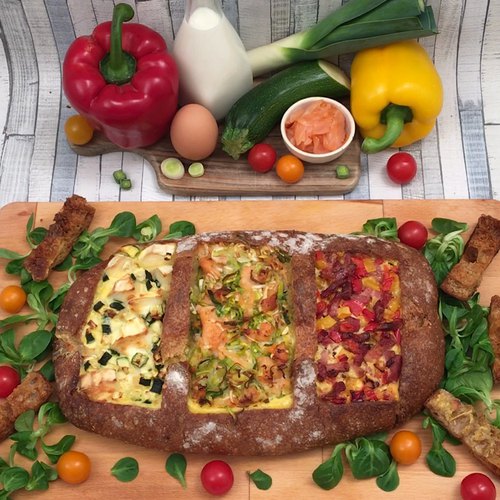 ---
Ingredients for 6 people
1 cob loaf
1 leek
3 1/2 oz of smoked salmon
3 1/2 oz of bacon, diced
1 red bell pepper
1 yellow bell pepper
1 zucchini
1/2 log goat cheese
5 eggs
1 cup of heavy cream
salt & pepper
---
Tools
Baking tray
Parchment paper
---
Step 1/3
Cut out 3 squares of crust and crumb from the cob loaf to form compartments. Cut the removed parts into sticks.
Step 2/3
Place the chopped leek and salmon in one of the compartments, the fried bacon and diced peppers in a second, and the diced zucchini and goat's cheese in the last.
Step 3/3
Mix the eggs, cream, salt, and pepper and divide between the compartments. Place the bread and sticks on the baking tray lined with parchment paper and brush the sticks with melted butter. Bake for 25 minutes at 325 °F. Remove from the oven, slice, and enjoy!