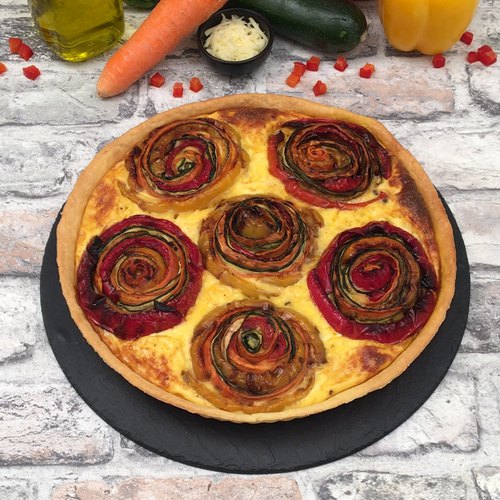 Grilled Veggie Roses
Grill masters, you better get ready. 🔥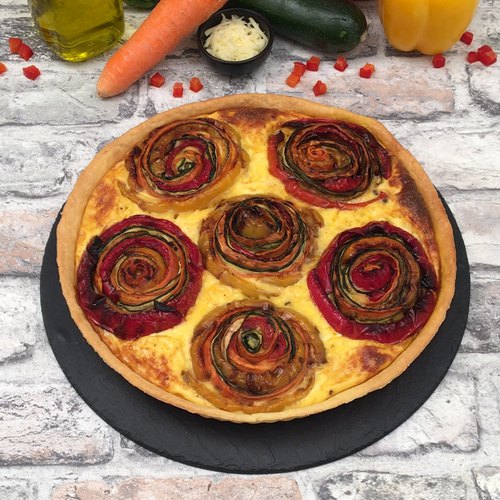 ---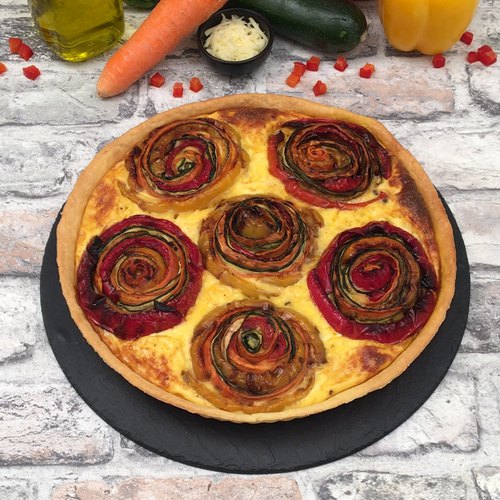 ---
Ingredients for 4 people
1 pie dough
1/4 cup of mozzarella, grated
2 carrots
2 zucchinis
2 yellow bell peppers
2 red bell peppers
4 eggs
1 1/4 cups of heavy cream
salt & pepper
---
Tools
Pie pan
---
Step 1/4
Place the pie dough in the pie dish and sprinkle the bottom with grated mozzarella cheese.
Step 2/4
Cut the zucchini and carrots into thin strips and the peppers into 24 strips and grill them. Lay 6 strips of vegetables lengthwise consisting of 1 red pepper strip, 1 yellow pepper strip, 2 slices of zucchini and 2 slices of carrot slightly overlapping, alternating the vegetables.
Step 3/4
Roll the strips on themselves to form 6 rolls and wrap each roll with 2 strips of peppers. Arrange all the rolls on top of the mozzarella cheese in the pie.
Step 4/4
Mix the eggs, heavy cream, salt, and pepper and pour the mixture into the pie. Bake for 30 minutes at 350 °F, slice, and enjoy!