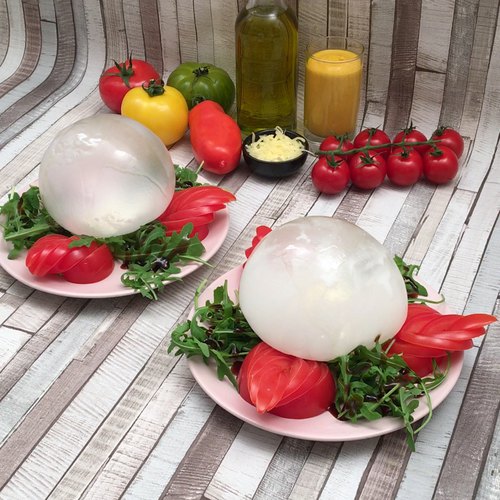 Caprese Salad, 4 Ways
A simple gets a few fantastic makeovers.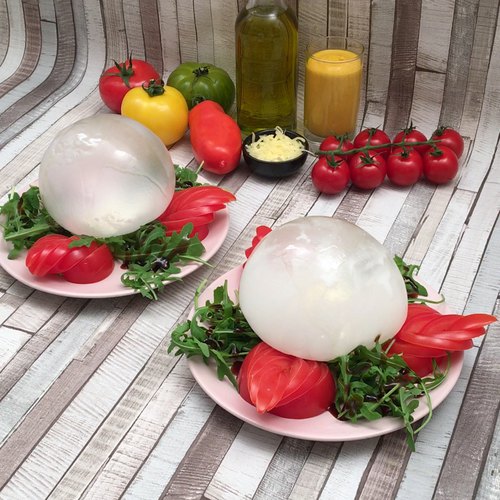 ---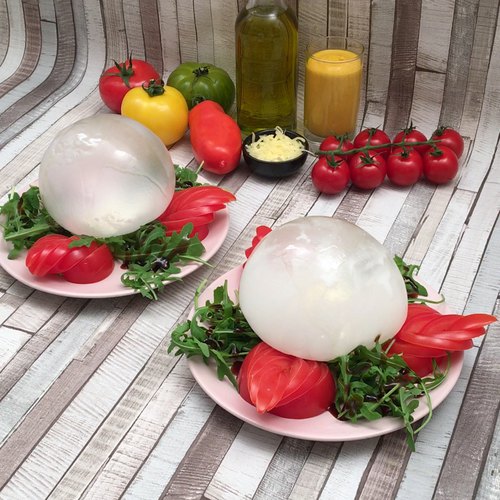 ---
Ingredients for 4 people
15 red tomatoes
6 balls fresh mozzarella
1 pie dough
1 tbsp of pesto
1 yellow tomato
1 orange tomato
1 black tomato
1 green tomato
1 burrata
18 slices of prosciutto
olive oil
arugula
tomato sauce
basil
salt & pepper
---
Tools
Plates
Straw
Pie pan
Baking tray
Parchment paper
Ramekins
---
Step 1/4
Cut 6 red tomatoes in half and then make parallel slits on each side that meet in the center of the tomato to make 3 V-shaped strips in each half. Stagger the strips on top of each other and place 3 tomato halves on each plate. Cut 1 ball of mozzarella in 4. Place 1 of the quarters in a bowl of hot water to melt into a soft dough. Wrap the dough around the straw and blow into it to inflate. Repeat with the other quarters and place the bubbles on the plates. Pour olive oil over the mozzarella and enjoy.
Step 2/4
Lay the pie dough in the pie dish and bake for 10 minutes at 350 °F. Remove from the oven, demold, and brush the pie with pesto. Cut the colored tomatoes and 1 red tomato in half, slice them, and arrange them in the pie crust, alternating the slices of different colors. Place the burrata in the center of the pie, drizzle with olive oil, season with salt and pepper, decorate with basil, and enjoy.
Step 3/4
Line the pie dish with 14 slices of prosciutto, place the ramekins on top and bake for 30 minutes at 300 °F. Cut 4 red tomatoes into slices without separating them completely. Slice a ball of mozzarella and cut the slices into quarters. Place the quarters between each tomato slice. Demold the ham dish from the oven, place the tomatoes in it with arugula in the middle, and enjoy with a balsamic dressing.
Step 4/4
Place the last 4 balls of mozzarella on the baking sheet lined with parchment paper and bake for 20 minutes at 350 °F. Remove from the oven and place the remaining prosciutto on the resulting mozzarella rectangle. Cut the remaining tomatoes into slices and arrange them on top of the prosciutto. Place arugula on top and roll the mozzarella on itself. Cut the roll into slices and enjoy by dipping them in tomato sauce.