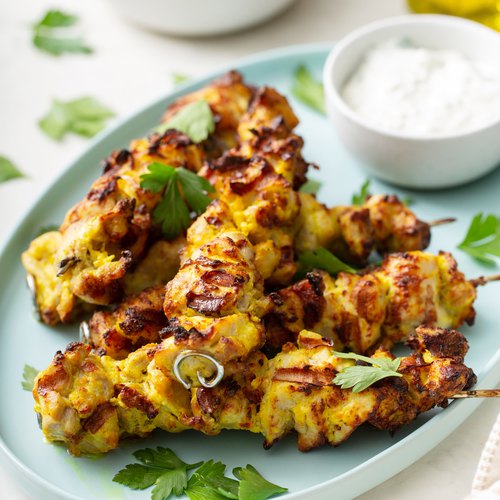 Shish Tawook and Shirazi Salad
Your new kitchen staple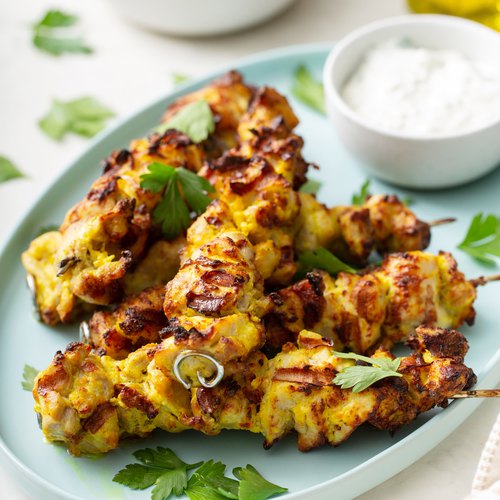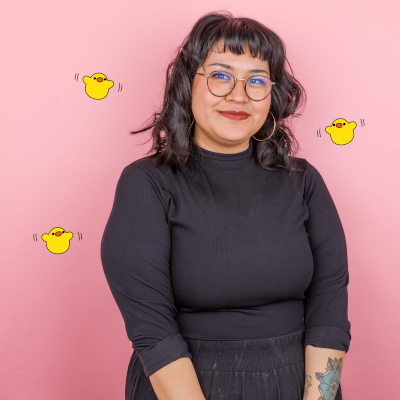 "Shish tawook is Lebanese-style chicken skewers. It's a very easy recipe that is both delicious and economic. Often paired with cold salads and dips, this dish is perfect for warm days and get-togethers. Here I give you a Shirazi salad, which is tomato and cucumber based, but I also recommend pairing it with olives, hummus, tzatziki, labneh, or tabbouleh. For a warm side, I recommend saffron rice and a warm slice of lavash, or pita."
Total time: 45 minutes
Prep time: 5 minutes, Cook time: 10 minutes, Rest time: 30 minutes
Ingredients for 4 people
2 chicken breasts
3 roma tomatoes
1/2 cup of plain yogurt
3 persian cucumber
2 tsp of paprika
6 tbsp of olive oil
1/2 tsp of black pepper
1 tsp of lemon juice
1/2 tsp of cumin
1/2 tsp of salt & pepper
1 tsp of salt
1 tbsp of tomato paste
4 cloves of cloves garlic, minced
1 lemon
---
Step 1/3
For the chicken: Using skinless and boneless chicken breasts, cut the chicken into 1.5-inch pieces. Add them to a bowl with the yogurt, paprika, salt and pepper, cumin, tomato paste, olive oil, minced garlic, and lemon juice. Cover it and let it rest in the fridge for at least 30 min, but max 4 hours.
Step 2/3
For the Shirazi salad: Remove the seeds from the roma tomatoes and cube them into half-inch pieces. Do the same with the cucumber (you do not need to peel them). Add the tomatoes, cucumber, olive oil, lemon juice, salt and pepper to a bowl and mix the salad. Chill in the fridge until ready to eat.
Step 3/3
Back to the chicken: Add four pieces of chicken to a skewer (if it's a wood skewer, allow the skewers to rest in water for a least 30 min before grilling). Grill over a hot grill (either charcoal or gas) until it gets really nice grill marks and then flip to grill the other side, total cooking time should be about 10 minutes. Rest the chicken for about 5 minutes and serve with your Shirazi salad and sumac. Enjoy!
Chefclub's Tips & Hacks
Grilled over coals, seared on a hot pan, or broiled in the oven. This dish is super versatile, cook the chicken any way you'd like. Another great thing is that you can make a lot and freeze portions for later use.