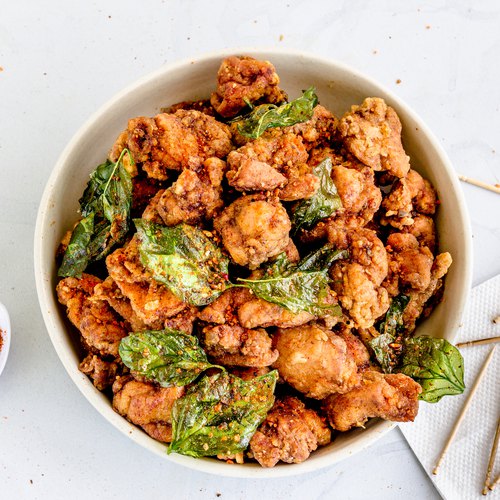 Night Market Popcorn Chicken
The best fried chicken of your life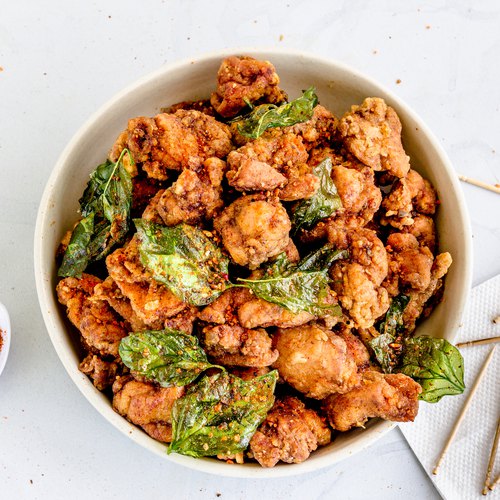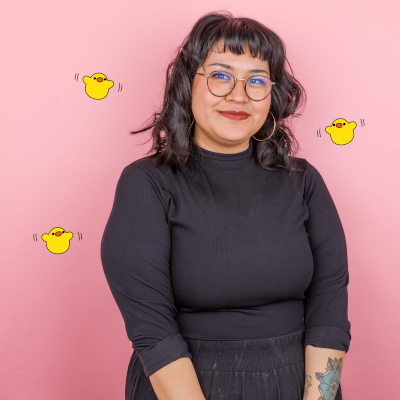 "Taiwanese popcorn chicken has all the street cred it deserves because it is, in fact, one of the absolute best fried chicken in the world. Often paired with rice, soy sauce eggs, and sweet chili dipping sauce, you can never go wrong with this recipe!"
Total time: 1 hour 5 minutes
Prep time: 15 minutes, Cook time: 20 minutes, Rest time: 30 minutes
Ingredients for 4 people
2 chicken breasts
2 cloves of garlic
1 tbsp of ginger
1 tbsp of oyster sauce
1 tsp of soy sauce
1 tsp of shaoxing wine
1 tsp of sesame oil
1/2 tsp of white pepper
1 cup of potato starch (flour)
1/2 tsp of salt
1/2 tsp of ground sichuan peppercorn
1/4 tsp of cayenne pepper
1/2 tsp of garlic powder
---
Step 1/3
Cut your chicken breasts into bite-sized pieces. In a bowl add the chicken along with minced garlic, ginger, oyster sauce, soy sauce, shaoxing wine (optional), and sesame oil. Chill the chicken in the fridge for at least 30 min but preferably 2 hours.
Step 2/3
In a wide, shallow pan, add vegetable oil to fill half of the pan, and heat to 400 F. Remove the chicken from the marinade and toss it in plenty of potato starch (or corn starch), shaking off the excess. Double fry the chicken in small batches.
Step 3/3
Combine the salt, sichuan peppercorn, cayenne pepper, and garlic powder, and sprinkle on top of the fried chicken before serving. Enjoy!
Chefclub's Tips & Hacks
The trick to getting the crunchiest fried chicken is to double fry. Fry once until slightly golden, remove from the oil, allow to drain for 10 minutes, and then fry again until it reaches the color you want.