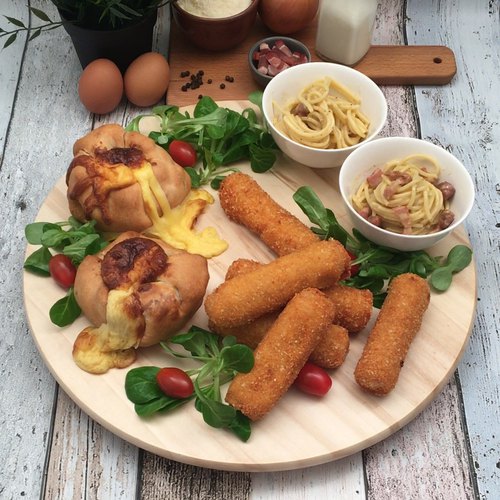 Spaghetti Carbonara 3 Ways
Pasta optional! 😜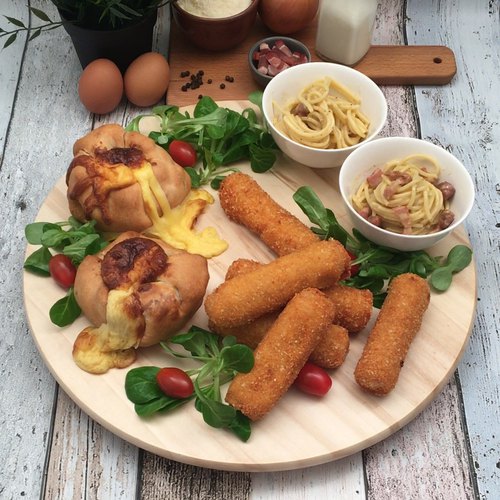 ---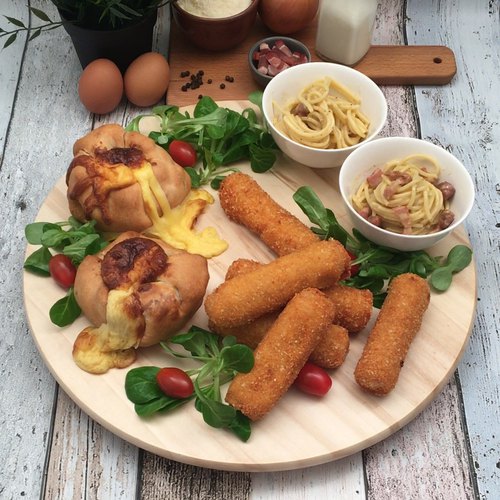 ---
Ingredients for 2 people
2 onions
1 pizza dough
2 1/2 cups of bacon, diced
6 egg yolks
6 cups of parmesan, grated
3/4 cup of sour cream
6 manicotti
3/4 cup of breadcrumbs
1/2 lb of spaghetti
salt & pepper
bacon
---
Tools
Rolling pin
Freezer bag
Baking tray
Parchment paper
---
Step 1/3
Peel 2 onions, cut off the tops and bottoms and remove the inside to keep only the largest layer. Cut 2 large discs from the pizza dough and spread some bacon on top. Press the bacon into the dough with the rolling pin. Wrap the onions in the dough discs, leaving one end open. Mix 2 egg yolks, 1 cup parmesan, 1 tablespoon sour cream, salt, and pepper and fill the onions with this mixture.
Step 2/3
Sauté the inside of the onions, chopped, with 1 cup of bacon and mix with 2/3 cup sour cream and3 cups of parmesan. Place this mixture in the freezer bag and cut off 1 of the lower corners to use it as a piping bag. Stuff the manicotti with this mixture. Bread the manicotti by coating them successively in 2 beaten egg yolks and a mixture of parmesan and breadcrumbs. Place the stuffed onions and manicotti on a baking tray lined with parchment paper and bake for 15 minutes at 350 °F.
Step 3/3
Cook the spaghetti in boiling salted water. Fry the remaining bacon in a dry pan and add a ladle of pasta cooking water, once cooked thoroughly. Add the cooked and drained spaghetti. Mix 2 egg yolks, 1 cup parmesan, salt, and pepper and add this mixture to the pan off the heat. Divide into bowls and enjoy with the other versions of past carbonara.