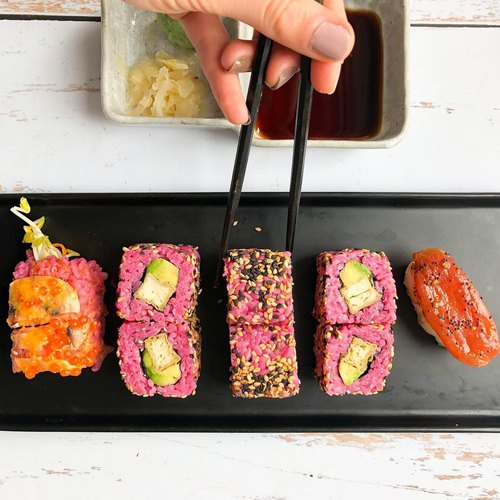 Vegan Avocado Sushi
The pinkest sushi you've seen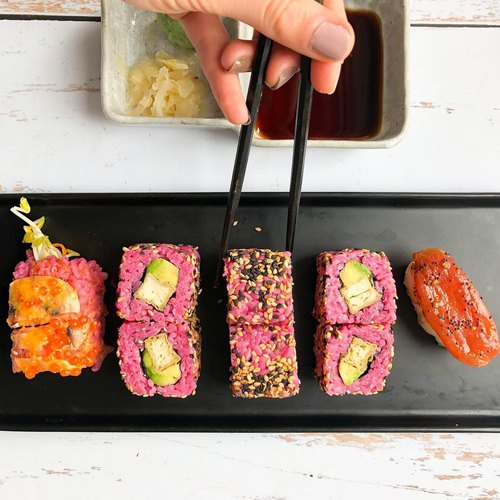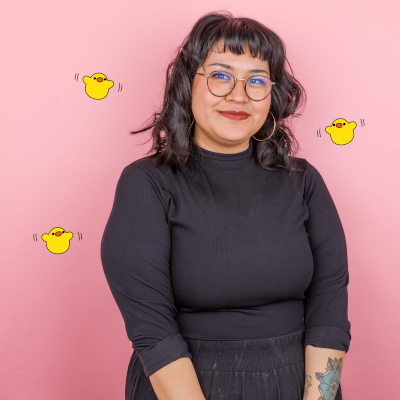 "This vegan sushi recipe is from our creator @veganica_paris. She shows us how to make vegan sushi that not only is beautiful to see, but absolutely delicious too."
Total time: 30 minutes
Prep time: 10 minutes, Cook time: 20 minutes
Ingredients for 4 people
1 cup of cooked sushi rice
2 nori (seaweed sheet)
1 beet, cooked
1/2 carrot
1 persian cucumber
1/4 green bell pepper
1/4 red bell pepper
1/4 yellow bell pepper
1/2 cup of fried onions
1/4 cup of vegan mayo
1 tbsp of whole grain mustard
---
Step 1/3
Take a scoop of rice of approximately 1/3 cup and spread it out on the nori sheet, slightly exceeding the sheet. Arrange the sliced beet on top of the rice for 1 to 2 minutes.
Step 2/3
Mix the vegan mayo with the whole-grain mustard. Grate the carrots and slice them with a mandolin. Peel and slice the cucumber and the peppers into thin strips.
Step 3/3
Remove the beet from the rice and turn the sushi over. Spread the mustard dressing on top, followed by the vegetables. Roll the sushi with the sushi roller and arrange the onions around it. Make another sushi roll with the remaining ingredients. Serve chilled and enjoy.
Chefclub's Tips & Hacks
Try making this recipe with sliced fried tofu, or you can swap it for fresh cucumber... or enjoy it with avocado alone!