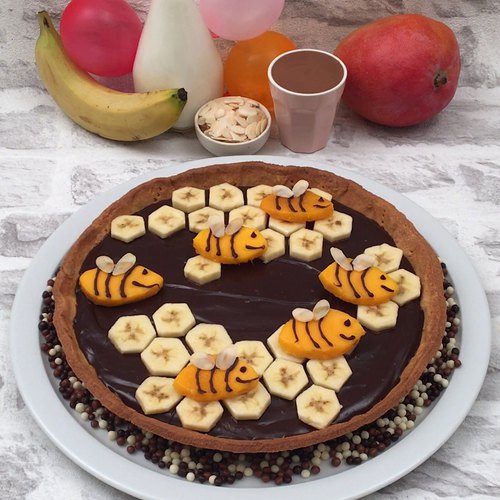 Recipe
Honey Comb Pie
Bee happy!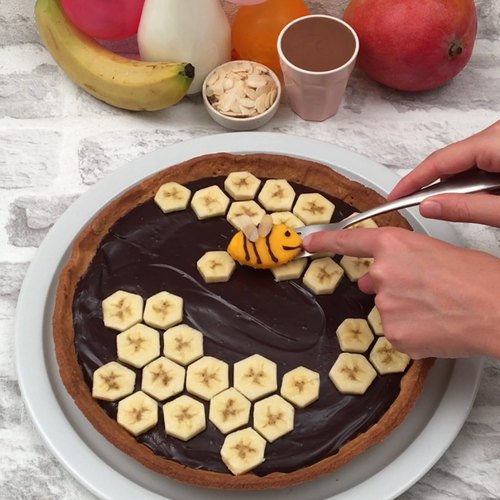 Cut the mango into 6 slices and make eye shapes in the fruit using the Kiddoz cat. Draw stripes, a mouth and an eye on the mango pieces with melted dark chocolate to form bees. Place 2 slivered almonds on each to make the wings.

Mix 3 pigs of flour, 1 chef of icing sugar, 1 cat of butter and add 1 egg then knead to obtain a shortbread dough. Spread the dough with the rolling pin and place it in the pie dish. Prick the bottom with a fork, place weights on top and bake for 20 minutes at 350 °F.

Melt 3 cats of dark chocolate in 1 chef of warm heavy cream, then pour over the dough when it comes out of the oven.

Cut the bananas into slices and trim the edges of each slice to form beehive cells. Place the honeycombs and bees on the tart, cut into slices and eat.
It's ready!
SIGN UP
FOR FREE
TO SEE THE RECIPE
DISCOVER CHEFCLUB KIDS
A new experience made just for kids
Chefclub Kids promotes creativity and autonomy in kids 👨‍🎨
Chefclub Kids makes vegetables the star of the plate 🥕
Chefclub Kids makes it possible to cook and play as a family 💚
ORDER
Recipes that are fun, creative, and healthy
Kids become creators, owners of their recipes
20 easy-to-make illustrated recipes