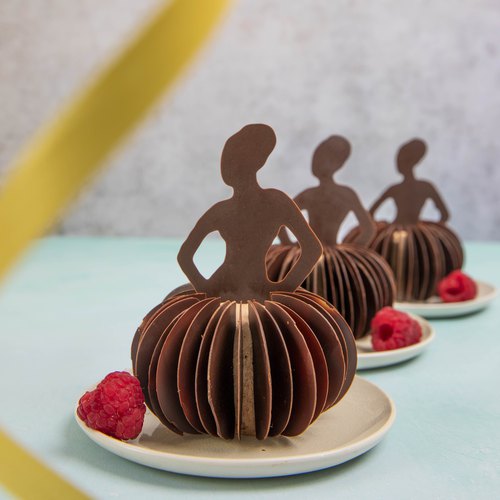 Ballerina Cakes
They'll make you dance for joy! 🩰 🤩😋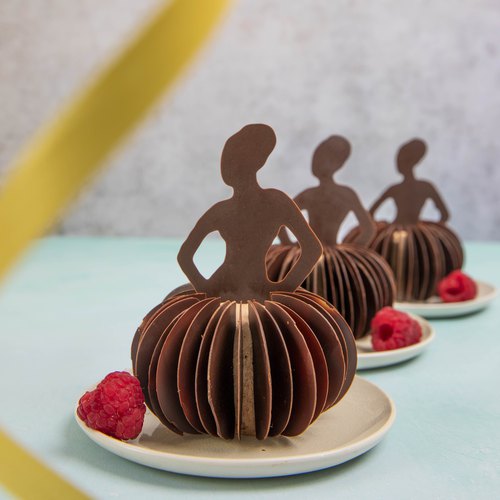 ---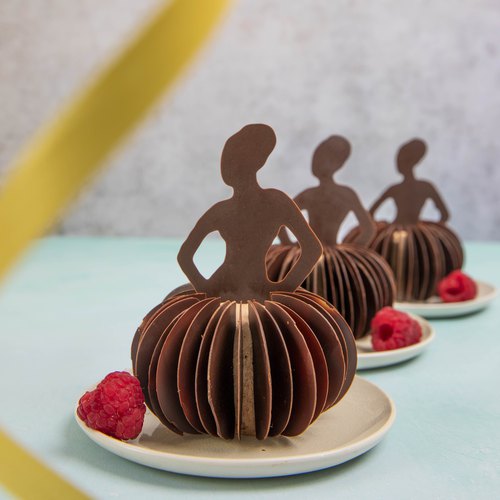 ---
Total time: 2 hours 30 minutes
Prep time: 30 minutes, Rest time: 2 hours
Ingredients for 5 people
1 cup of dark chocolate
1/2 cup of milk chocolate
2/3 cup of heavy cream
1 container of chefclub coconut ice cream
---
Tools
Ketchup bottle
Plastic bags
Toothpick
Electric mixer
Espresso cups
Plastic wrap
Ice cream scooper
---
Step 1/4
Break the chocolate bar into pieces and place them in the unscrewed ketchup jar. Close the jar, place it in a pan of water on the stove to melt the chocolate. Use the jar to make chocolate discs on a plastic sleeve, make 8 discs, then cover with another sleeve and press gently to flatten the discs. Repeat the operation to obtain 16 discs.
Step 2/4
Use the toothpick to separate the discs into semicircles. Place in the refrigerator for 1 hour. Place a plastic bag over the template to be printed from chefclub.tv. Place the remaining melted chocolate in a freezer bag, then cut off a bottom corner to make a piping bag. Trace the outline of the silhouette with the chocolate and fill it in. Repeat for 5 silhouettes and chill for 30 minutes.
Step 3/4
Melt the milk chocolate in the heavy cream, letting the bar reduce in the boiling cream. Set the chocolate and cream mixture aside and chill for 1 hour. Whip it with an electric mixer. Line the inside of the espresso cups with parchment paper and fill the bottom with chocolate mousse. Use the ice cream scoop to make small coconut ice cream inserts and place them in the center of the cups. Top with chocolate mousse to the brim and freeze for 1 hour.
Step 4/4
Unmold cups onto plates, then decorate around the edge of the cake with the chocolate semicircles and completely cover the edge of the cake to make a dress. Place the silhouette on top of the cake. Serve and enjoy!