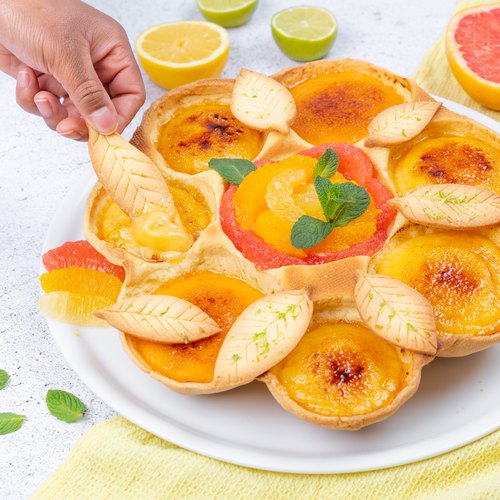 Gourmet Citrus Pie
Gourmet Citrus Pie! You citrusly have to try it 🍋🍊🥧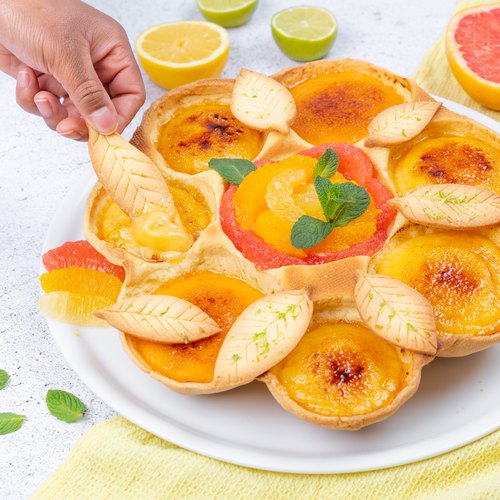 ---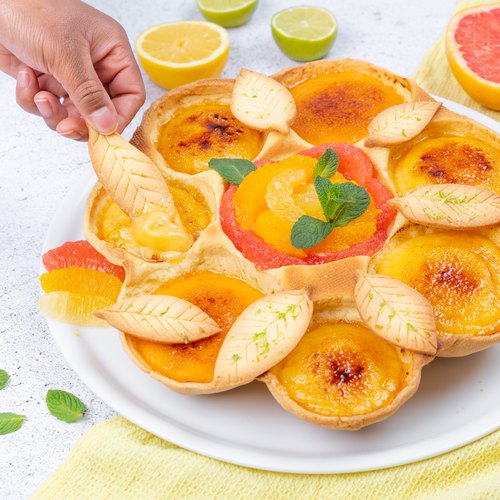 ---
Total time: 1 hour
Prep time: 25 minutes, Cook time: 35 minutes
Ingredients for 6 people
2 shortcrust pastry
2 grapefruit
2 oranges
3 lime
8 egg yolks
1 cup of sugar
2 tbsp of cornstarch
4 tbsp of brown sugar
Mint leaves
---
Tools
Piping bag
Blowtorch
---
Step 1/4
Cut the citrus fruits in 2, place them on a baking sheet and cover them with shortcrust pastry. Flatten the dough so that it takes the shape of citrus fruits, prick the dough, add some lime zest and bake for 20 minutes at 350°F.
Step 2/4
Mix half of the sugar, 8 egg yolks and 1 tbsp of cornstarch. Squeeze 1 grapefruit, heat the juice and pour it gradually into the mixture. Cook the preparation until the mixture thickens and set aside in the fridge. Repeat the process with the emon juice to obtain a second cream.
Step 3/4
Roll out a second shortcrust pastry and draw waves with a knife to form the leaves. Create the stems, add some lime zest and bake for 15 minutes at 350°F.
Step 4/4
Pipe the lemon and grapefruit creams into the shells. Spread the cream, add the brown sugar and caramelize with a blowtorch. Cut the citrus supremes and place them in the center of the pie. Place the shortcrust pastry leaves and stems. Add few mint leaves and enjoy!